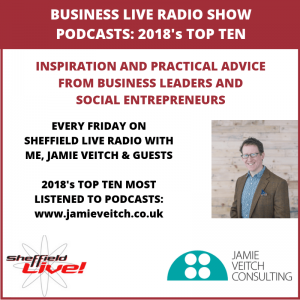 2018 was a super year for the Business Live radio show.
Over the course of 40 or so shows, broadcasting live on Friday mornings throughout the year, I got to pick the brains of a diverse range of business leaders, social entrepreneurs and self-employed creative folk.
Guests generously shared their experiences, advice, ups and downs, top tips and formative moments.
You can see details of all the shows in chronological order on the show page here or via the interviews category here. I very much appreciate the involvement of all my guests and all the comments from listeners.
The show is broadcast live on FM radio and through Sheffield Live!'s internet livestream.
It's also available as a podcast afterwards and thanks to the magic of analytics I can tell you which Business Live show podcasts were listened to the most in 2018.
As you'll see, this top 10 list (of the most listened to podcasts during 2018) includes one show from 2016 and one from 2017. A diverse and eclectic bunch of topics, with fascinating guests:
Thanks once again to every interviewee: I can't think of a dull show because all of my guests have been so interesting and it's a great privilege to present the programme.
The show is aimed at anyone interested in launching, running and growing small and medium sized businesses and social enterprises.
If you'd like to nominate a guest, do get in touch! And if you sign up to my email newsletter below you'll get notifications about the content and guest of each week's new show, plus other emails to help you communicate more effectively.
What next?
If you like reading useful, practical advice that's also entertaining, then you're welcome to join my free newsletter email list (if you're not already signed up). Just pop your details in below.