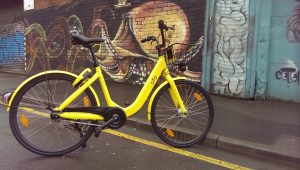 …it's got a basket, a bell that rings, and lots of things (like yellow paint!) to make it look good. One borrowed bicycle featured in the Pink Floyd track Bike, but hundreds are now available in Sheffield after dockless bike sharing scheme Ofo launched this week.
Adam Rose, Ofo's operations manager for Sheffield, joined me in the Sheffield Live studio today for a comprehensive interview about Ofo's bikes. You can listen to the podcast below.
We talked through how Ofo's bike sharing system works; the design and specification of the bikes; security; maintenance; where the bikes can be used; preventing and reducing theft and vandalism; lighting and other features; incentivising good use of the bikes; wearing helmets and more.
Adam, a cycle commuter and passionate leisure cyclist too, used to run a bike shop in Sheffield, and gave a valuable perspective on the city's cycling infrastructure. He also answered my questions about Ofo's financing, revenues, business model and data use.
Enjoy the interview and do let me know what you think.
Here's the podcast (timings are listed below. Music played in the show removed from podcast):
Timings:
0 – 6:34 introduction and updates, including updated UK productivity figures; £330m awarded to Big Lottery Fund to distribute to "good causes" including projects focusing on financial inclusion and homelessness; GDPR information from the Information Commissioner's Office; a forthcoming Women Leading Social Change event; funding for Azzure IT set to create Sheffield jobs.
6:34 – 52:01 Adam Rose.
What next?
More about my Business Live radio show. Meanwhile if you like reading useful, practical advice – that's also entertaining, then you're welcome to join my free newsletter email list (if you're not already signed up). Just pop your details in below.