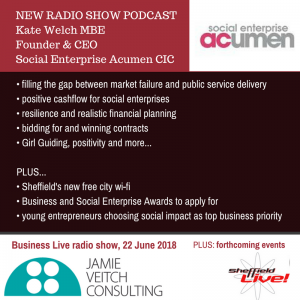 Kate Welch is founder and CEO of Social Enterprise Acumen, a community interest company (CIC) which supports social entrepreneurs to develop their concepts or grow their businesses.
She joined me for an extensive radio interview on this morning's show – and the podcast is below. It's crammed with great advice for leaders of businesses and social enterprises.
Kate covers:
Acumen's work and the most common challenges Kate and her team help clients to solve
balancing the delivery of public sector contracts with the need for positive cashflow
social investment: do impact investors understand social enterprises' needs?
the vital importance of developing resilience for social entrepreneurs, including advice on separating problems from solutions
public recognition and awards (Kate's been awarded the MBE for services to social enterprise and the Queen's Award for Enterprise Promotion) – do they help?
the difference between budgeting with wishful thinking and realistic financial planning covering best and worst case scenarios
tips on how to decide whether to bid for contracts, and if you do, how to put together an excellent bid
her voluntary work with Girl Guiding and some of the skills and aptitudes this organisation develops in girls and young women (did you know girl guides are incredible sales people?)
her long-held love for Sheffield having spent time studying physics at University in the city
Podcast (also available in iTunes):
Timings:
What next?
Check out the Social Enterprise Acumen website and find Kate on twitter.
More about my Business Live radio show.
If you'd like details of new podcasts and enjoy reading useful, practical advice – delivered in an accessible, entertaining format, then you're welcome to join my free newsletter email list (if you're not already signed up). Just pop your details in below and look out for a confirmation email to click to confirm you want to join the list.