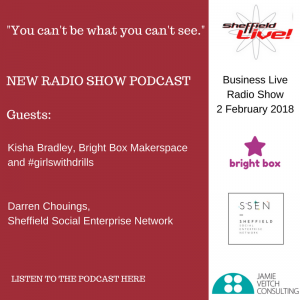 "You can't be what you can't see," writes Kisha Bradley, engineer, STEAM-inist, and founder of Bright Box Makerspace. For children to become the scientists, technologists, engineers, artists and mathematicians of the future, they need to know what options are available – and build appropriate skills.
Hundreds of children have played, created, and unleashed their imaginations through Bright Box's community events and workshops "focused on enabling today's children to invent the future with creative imagination and confidence." Kisha launched the social enterprise a year ago.
Since then Kisha has also collaborated with inventor and Kids Invent Stuff host, Ruth Amos, to launch #girlswithdrills. Kisha joined me in the Sheffield Live radio studio on Friday to talk about inclusive skills building and encouraging tomorrow's inventors, programmers and tinkerers.
In the interview Kisha also covers her approach to setting priorities, and accessing support for social entrepreneurs. The podcast is below.
Also on the show: Sheffield is now a Social Enterprise City. What does this mean and how has it come about? Darren Chouings, voluntary chair of the Sheffield Social Enterprise Network, discussed how collaboration between social enterprises, the private, public, education and voluntary sectors led to a successful partnership bid for the city to be recognised as a social enterprise place. And he discussed the vibrancy, diversity, size and strength of the social enterprise sector in Sheffield.
Enjoy the podcast (timings below; you can also find it in iTunes):
Timings:
0 – 5:31 introduction and updates, including recommendation at Women and Equalities committee hearing to change law on sexual harassment, with input from employer organisation, the CBI; how to get in touch with the show;
5:31 – 17:12 Darren Chouings: social enterprise in Sheffield;
17:12 – 34:14 Kisha Bradley: on #girlswithdrills and Bright Box;
34:14 – 39:03 forthcoming events;
39:03 – 49:01 Kisha Bradley: help and support for social enterprises; prioritisation; challenges overcome in Bright Box's first year;
49:01 to 49:59 (end) wrapping up.
What next?
More about my Business Live radio show.
If you like reading useful, practical advice – that's also entertaining, then you're welcome to join my free newsletter email list (if you're not already signed up). Just pop your details in below.