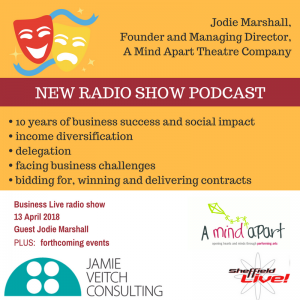 Jodie Marshall has been running A Mind Apart Theatre Company for 10 years.
It is a thriving business, a social enterprise, earning income from delivering education contracts, from parents paying for their children to attend weekly sessions and holiday clubs, and from adult workshops (among other income streams).
Its mission is to use performing arts to "challenge, inspire, encourage and change lives."
But it can't change any lives if it doesn't earn income.
Jodie was frank and forthright when she joined me for a radio interview this morning in the Sheffield Live studio.
Favourite quote: "Be obnoxious but be realistic" (but you should listen to the podcast to understand the context!)
We discussed Jodie's original driver to launch A Mind Apart • the work they do and with whom • diversifying income streams • bidding for contracts • delegating and trusting your team • abusing funding• biggest challenges overcome • when panic mode can be beneficial • and much more.
Here's the podcast:
Timings and shownotes:
0 – 7:21 introduction and updates: it's Friday 13th, does superstition affect how you run your business? Plus some forthcoming events including a quarterly economic review breakfast, The Indie Business Fair and more.
7:21 – 55:14 Jodie Marshall, covering:
[7:21] what A Mind Apart does, who the organisation works with and why they do it
how and why Jodie started the business
[10:40] what is "theatre of the oppressed" and how has A Mind Apart iterated it [12:33]?
[17:36] biggest achievements in the past 10 years, "when you run a business, it's never good enough" – but A Mind Apart's impact is significant
[20:08] income streams – where the money comes from and how Jodie has diversified – and Jodie's views on abuse of Arts Council funding
[23:41] more on income streams
[27:44] being in panic mode – and how it can be beneficial
[30:40] some helpful advice about delegation
[34:29] the biggest challenges A Mind Apart has faced and a discussion around political meddling with education and changes to the curriculum
[39:38] becoming tender-ready, partnership working, being obnoxious and realistic: excellent tips for social enterprises and small businesses about securing public sector contracts
[43:04] Jodie's view on Sheffield as a place to do business and as a place that supports social enterprise
[44:19] who has helped A Mind Apart and how?
[47:08] the impact of a column Jodie wrote last October about Breaking the Taboo of Domestic Abuse. And can social enterprises and businesses do more in terms of speaking out about this, and other issues that affect so many people yet can be difficult to address?
[53:35] Jodie's aspirations for the next 10 years and the year ahead
What next?
A Mind Apart – website
More about my Business Live radio show.
If you'd like details of new podcasts and enjoy reading useful, practical advice – delivered in an accessible, entertaining format, then you're welcome to join my free newsletter email list (if you're not already signed up). Just pop your details in below.