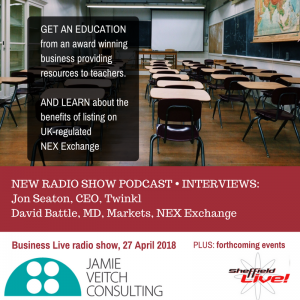 Get yourself an education in business growth with this latest radio show podcast.
Friday's programme, broadcast on Sheffield Live radio and available as a podcast below, features an in-depth interview with Jon Seaton, co-founder of specialist online educational publisher, Twinkl.
Jon and wife Susie launched Twinkl to support the teaching community by providing access to resources and classroom material. Around 500,000 teaching resources have been created and the business has customers in more than 168 countries.
Founded in 2010, Twinkl was this week named a recipient of a Queen's Award for Enterprise, the UK's highest accolade for business success. The Queen's Award recognises outstanding achievement in international trade, innovation, Sustainable Development and Promoting Opportunity (through social mobility).
Also in the show: an interview with David Battle, Managing Director, Markets, NEX Exchange. David was in Sheffield this week (at an event I attended and chaired) to discuss how a listing on NEX Exchange, a UK regulated stock exchange for small companies, can be beneficial for businesses seeking access to capital.
David tells me what types of businesses are listed on NEX Exchange. And he describes the process to become ready to list or prepare for an IPO and how long it takes.
Here's the podcast to download or stream (or find it in iTunes and Stitcher); timings and show notes below:
Timings and shownotes:
0 – 7:18 introduction and updates, including a recap of last week's show; Business in the Community's Responsible Business Week; Community Business Weekend on 4-7 May; other forthcoming events
7:18: Jon Seaton, CEO of Twinkl. Introducing Twinkl, specialised digital publishing business for education. Founded in 2010 by Jon and wife Susie, a teacher.
[10:10] How did the business develop between 2010 and now?
[10:55] Twinkl's two key business principles at the foundation of the business.
[13:06] creating content and material, why Twinkl operates a "freemium" model, and how content is developed.
[14:40] who are the people using Twinkl's resources and where are they?
[16:20] how is content tailored for teachers in different territories.
[19:50] as Twinkl has grown – now to a point where there may be 10,000 users downloading material within 20 minutes – how has the web infrastructure and the coding of the site developed to ensure the site is robust?
[24:50] one defining factor of any great business, in Jon's view.
[25:30] this week Twinkl won a Queen's Award for Enterprise in International Trade. What does that mean for the business?
[29:16] why Twinkl started with a freemium model.
[30:24] dealing with taxation as a business trading internationally.
[32:12] why Jon believes businesses have a moral duty to pay taxes and contribute to the society in which they are based.
[36:00] what advice could Jon today give to himself back in 2010, with the benefits of hindsight? And the pros and cons of classic entrepreneurial traits and the benefits of a strong team.
[39:05] where next for the business? And how to get in touch with Jon.
[41:45] contact the show, recap, and introducing David Battle, NEX Exchange.
[43:07] what is NEX Exchange?
[43:50] examples of a few companies listed on NEX Exchange, and typical sizes of companies joining.
[45:10] the benefits of a listing on NEX.
[46:19] how the exchange has worked closely with the Social Stock Exchange (now the Impact Investor Network).
[47:10] what's the process to become ready to list on NEX or prepare for an IPO? How long does it take?
[48:40] getting in touch with NEX Exchange.
[49:00] wrapping up.
What next?
Check out Twinkl and NEX Exchange
More about my Business Live radio show.
If you'd like details of new podcasts and enjoy reading useful, practical advice – delivered in an accessible, entertaining format, then you're welcome to join my free newsletter email list (if you're not already signed up). Just pop your details in below.