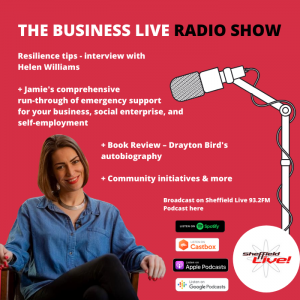 In this episode of the Business Live radio show: a comprehensive run-through of support available to businesses, social enterprises and the self-employed. Plus a great interview with Helen Williams and a book review. It was broadcast on FM radio this morning. The podcast is below.
"There is a huge spirit, particularly in Sheffield at this time. That will remain, particularly if we stick together," says Helen Williams, a coach who helps business leaders with their mindset. In today's challenging and terrifying times, how is she helping folk cope with anxiety and uncertainty? You can't control what's uncontrollable, but Helen has practical tips to apply right away.
Also on the show: a big run-through of many support packages and grants now available for businesses, social enterprises and self-employed people, both from government and elsewhere. Some you will have heard about, others you probably haven't, so don't miss this.
Plus we cover several community initiatives and some specific things to support (if you are able to).
And I review a recently-published autobiography of Drayton Bird, who, it's been said, knows more about direct marketing than anyone in the world. At 83 he has "lived long enough to make some ghastly mistakes." What do I think of his autobiography? Listen to find out.
Here's the podcast. Click the large arrow to play, or hover over the media player and click on the icon on the bottom right corner to download it.
You can also access it in Apple Podcasts, Stitcher, Google Podcasts, numerous other podcast apps or Spotify.
Timings
0 – 2:48 introduction.
2:28 interview with Helen Williams of Helping Entrepreneurs Win.
20:44 Jay Bhayani has guidance and answers to FAQs for employers. Get them here.
22:32 If you supply the public sector, a procurement policy note published last week has encouraged commissioners to support its suppliers through payment up front and other measures. Do check whether this is relevant to you. Details in the show, and more here. Plus a thanks to Heidi Fisher for finding this.
24:39 The Coronavirus Job Retention Scheme. Support to pay part of your employees' salary if they would otherwise have been laid off. Details in the show, and more here.
25:56 Deferment of VAT and of income tax payments. Details in the show, and more here.
26:31 Reclaiming expenditure for payment of Statutory Sick Pay. Details in the show, and more here.
27:20 Business Rates holidays and associated cash grant funding for eligible businesses in the retail, hospitality and leisure industries that pay business rates. Details in the show, and more here.
28:04 The Coronavirus Business Interruption Loan Scheme. Working capital loans with interest and fees paid by the Government in the first year. This is being delivered by accredited partners to the British Business Bank – some banks and some community development finance institutions, themselves social enterprises. Details in the show and more here.
31:27. The announcement many listeners have been waiting for: support for the self-employed and freelancers. The Self-Employed Income Support Scheme will support around 95% of self-employed people, according to the Chancellor. Those eligible in the UK-wide scheme will receive a cash grant (in June) worth 80% of their average monthly trading profit (up to £2500 per month) over the last three years. The scheme has been designed after engagement with stakeholders including the TUC, the Federation of Small Businesses (FSB) and The Association of Independent Professionals and the Self-Employed (IPSE). More details in the programme, and here.
36:23 How to get in touch and comment on the radio about all this.
37:04 The Arts Council's financial support for artists, creative practioners and freelancers. Details in the show, and here.
39:09 Cash grants for grassroutes projects from The Alpkit Foundation.
40:31 South Yorkshire Community Foundation support for community groups and charities.
41:10 Announcements from social investors and Charity Bank's resource hub.
42:14 Sheffield Business Together has launched a call to support Sheffield's Food Banks. How to help (donate here with the reference Covid 19, donations will be shared across the 15 foodbanks in the network).
45:12 Please support the Big Issue if you have the means to do so.
46:31 Book review: Drayton Bird was a guest on this programme last year. Since then he's published his autobiography, You Did What? 83 years of misadventure, mayhem – and millions. Should you read it? Listen to my review.
50:44 Wrapping up.
What Next:
Sheffield Live's website is here.
Enjoyed the show? Please leave a review or rating on Apple Podcasts or Stitcher. Subscribe for new podcasts too.
The Business Live radio show is broadcast live almost every Friday on Sheffield Live radio and available as a podcast in Apple Podcasts here.