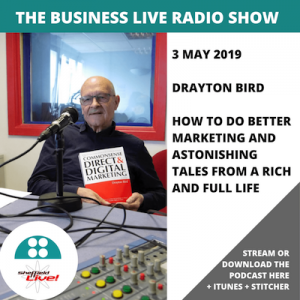 It's been said Drayton Bird knows more about direct marketing than anyone in the world. His book on the subject has been a bestseller for decades. And he was my guest for a radio interview this morning.
If you want to sell anything to anyone or persuade folk to support your cause listen to the podcast. One nugget alone can usually improve the result of your advertising by 50%.
At 82 years of age Drayton has "lived long enough to make some ghastly mistakes." And he lives a full, rich and fascinating life.
He's also had a profound influence on modern advertising and marketing – especially for those marketers and business owners who value results above anything else.
Drayton has worked in 55 countries with many of the world's greatest brands and has helped sell everything from Airbus planes to Peppa Pig. Businesses, political parties, charities have all improved the results of their marketing thanks to Drayton's expertise.
"Drayton Bird knows more about direct marketing than anyone in the world," according to legendary marketer David Ogilvy, the founder of Ogilvy & Mather.
Listen to or download the podcast here or in iTunes, Stitcher or Spotify. Full timings are below.
0 – 2:41 welcome and introduction,
2:41 who is Drayton? Family memories, growing up, accidents, stabbings and near-death experiences,
6:30 the Bullworker and Dave Prowse,
7:00 the first woman who tried to kill Drayton,
7:30 why Drayton lived under a false name for seven years (and what he called himself),
8:00 doing literally anything to make money,
8:30 Drayton's friendship with the most famous name in advertising, David Ogilvy,
9:20 Drayton is the author of 4 books including the heaviest tome in direct marketing and a novel,
10:30 the principles of communication don't change even if the media do. Lots of money is being made by crooks,
11:00 Drayton's great achievement relating to the 9 children he's helped to bring up,
12:25 what is direct marketing? Why all direct marketing principles apply to selling anything online,
14:10 study, study, study and the best book ever written about advertising and marketing,
17:54 the most important question in business, never mind in advertising,
18:10 what you MUST do when you're trying to communicate with people,
18:45 how to (usually) improve response to an ad by 50%,
20:10 the greatest sin in advertising and why one of the most famous direct marketing campaigns in the world worked,
22:28 astonishing and illuminating reminiscences of Drayton's mother and how Drayton's parents shaped his life,
27:45 what drives Drayton?
29:00 Drayton's terror of public speaking and what happened when Drayton's business went bust when he was 40 years old?
30:25 how to make a speech people will listen to – especially how to START,
31:15 Drayton's mail-order hairpiece disaster,
34:34 music break – and how to get in touch or to be on the radio show
35:29 how Drayton got involved with selling The Bullworker – and why it made him no money,
37:05 Drayton's most spectacular business failure (and what he said to creditors),
38:50 why Drayton spent seven years living under a false name – and how it was resolved,
39:59 how a Polish count saved Drayton's life,
41:00 The "one that got away," not a brand, but a campaign he wished a client had run,
42:22 how to do better advertising (and why you should),
43:27 Drayton's fitness regime,
44:10 how to write high-performing charity ads and the best piece of copy Drayton has ever written,
45:50 what works in political advertising,
47:15 and why Donald Trump (Drayton isn't a fan) appeals to people,
48:26 how to learn more about Drayton and why you might subscribe to his tips,
49:05 when is Drayton's autobiography out?
49:43 wrapping up.
What next:
Enjoyed the show? Please leave a review or rating on iTunes or Stitcher. Subscribe for new podcasts too.
Go to Drayton Bird's website (for great blogs and to get Drayton's free tips), and check out his books.
Sheffield Live's website is here.
The Business Live radio show is broadcast live every Friday on Sheffield Live radio and available as a podcast in iTunes here.
To get new podcasts and practical advice in an accessible, entertaining format, join my free newsletter email list (if you're not already signed up). Just pop your details in below and look out for a confirmation email.