New interviews: Über, BuddyBurst, Dark Peak Gear | Plenty of inspiration, practical sales and business development advice, and amusement in this latest episode – podcast is below

Did I bring a car sharing app into the radio studio? No.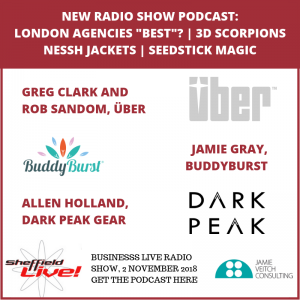 Is a London-based creative agency "better" in some way than one based in Sheffield?
Also no, according to Greg Clark and Rob Sandom of Über Agency (which pre-dates the taxi sharing app by several years) who joined me for the latest Business Live radio show this week.
Über is a full service agency, offering a range of integrated services.
The firm has worked for The UN, the Kazakhstan Government, for DFS, and for a diverse range of other clients from local professional services firms to national brands. Their sponsorship idents for Tombola will shortly air on TV's I'm a Celebrity.
Über's London Bound film "tells the story of a brand manager sneaking off to the capital behind his agency's back because he's heard that "they do things proper" down there. However, he is caught waiting on the train platform by an Über creative."
We played a clip from the film during the radio show (9 mins and 3 seconds in, within the podcast below). The film itself has already been viewed over 70,000 times.
Greg and Rob told me more about Über's work and whether there's any truth in the perception "London is where it's at." And I asked about the availability of talent in Sheffield: does the city suffer from either a skills shortage or a "brain drain" with great, homegrown talent leaving the city?
Also on the show: Jamie Gray, founder and CEO of BuddyBurst. Their Seedsticks™️ are designed to help brands to grow awareness in a sustainable way. "I saw a gap in the market – a lot of businesses were giving away tat – alot of our products are seed-based."
Each pack of BuddyBurst Seedsticks (which are manufactured in the UK) looks like a match book, but each match contains a seed that will grow when placed in soil. Other products include seeded paper.
Gray launched BuddyBurst in 2016; in 2 and a half years the business has grown dramatically and has customers including Wahaca, Accenture, Seedlip Drinks and many more.
Jamie described the business' growth and how he went about acquiring clients when the business launched. His proactive approach to sales and marketing has really paid off – there are plenty of business development tips here whatever business you're in.
Jamie also told me more about manufacturing several hundred thousand SeedSticks each month, scaling to meet demand, his previous career (in large and small agencies, interesting comments in the context of the other interviews in this show) and their strategy for international growth.
He concludes with a piece of solid advice which has enabled BuddyBurst to flourish.
Also in the show: a quick chat with Allen Holland of Dark Peak Gear. Their Nessh jacket ("the warmest jacket in the world") launches shortly on Kickstarter – in down and synthetic filled versions – and the firm will be operating on a buy one, give one model so that for every jacket bought a jacket will be given to a person who is homeless or without permanent shelter.
Here's the podcast (click the arrow to play or right click and save to download):
Timings (the music played in the radio show is removed from this podcast):
0 – 2:41 introductions
2:41 – 20:13 Greg Clark and Rob Sandom, Über
20:13 – 26:59 Allen Holland, Dark Peak Gear
26:59 – 49:25 Jamie Gray, BuddyBurst
49:25 – 50:39 wrapping up
What next?