Three interesting interviews in today's Business Live radio programme, broadcast this morning on Sheffield Live and available as a podcast below: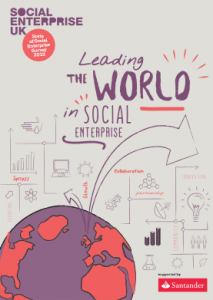 First of all, Nick Temple, deputy chief executive of Social Enterprise UK unpicked some of the findings from the new State of Social Enterprise research. The research reveals "a movement that is delivering on the promise of social enterprise: financially sustainable, creating jobs, tackling complex problems in the areas that need it most, and building a fairer world through how they operate. It also reveals a social enterprise movement which is changing in nature – the growing proportion of younger, smaller organisations makes it one of the most dynamic, fast-moving areas of business in the UK."
Nick talks through some of the findings of the research and Social Enterprise UK's conclusions and recommendations.
Next on the programme: would you take part in a stand-up comedy performance in front of an audience of several hundred? Assuming you're not a professional comedian, it's a daunting prospect. But that's exactly what several business leaders in Sheffield will be doing on 7th October, in order to support the Weston Park Hospital Cancer Charity. Phil Turner of Exposed Magazine / Blind Mice Media is one of them. Phil and Tina Harrison of Weston Park Hospital Cancer Charity discussed the forthcoming event.
Our final interview today was with Dan Kavanagh, MD of Ignition Search. The Sheffield business – a 'Top 50' Google AdWords partner digital agency – has recently secured a £40,000 investment from UK Steel Enterprise Ltd (a subsidiary of Tata Steel which whose aim is to help the economic development of those areas of the UK most affected by changes in the steel industry by providing equity and loan finance to growing companies).
Dan gave his tips on becoming "investment ready" and working with UK Steel Enterprises – plus some insights for listeners about internet marketing, search engine optimisation (SEO), Google AdWords management and conversation rate optimisation.
Have a listen to the show here (full timings below):
Timings:
0 – 8:18: introduction and updates about forthcoming events
8:18 – 19:10: Nick Temple (Social Enterprise UK)
19:10 – 35:08: Phil Turner and Tina Harrison (Funny Business – Weston Park Hospital Cancer Charity)
35:08 – 53:50: Dan Kavanagh (Ignition Search)
53:50 – end: wrapping up