M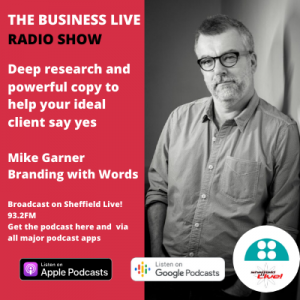 ike Garner escaped a career as a translator when he got sick of translating clients' bad French.
He and his business, Branding with Words, help people put together messages which resonate with their ideal customers. You can supercharge your own messages by listening to this interview, broadcast on my Business Live radio show on Sheffield Live and available as a podcast below. Mike explains:
why you shouldn't be trying to sell to everybody,
how to build customer avatars and profiles (and why this means you can serve clients better and build a stronger business),
the pitfalls of building a profile so perfect it doesn't exist,
where to start before you get to psychographics and demographics,
the power of "review mining" and how to do it,
a deep research and intelligence gathering process you can follow to gather insights into your ideal clients' and customers' problems,
how to create resonant messages,
copywriting horror stories,
where to get practical advice you can put to work in your business today, including Mike's free 6-Day ideal client challenge.
Crammed with value and Mike's generous, practical advice, this is a corker of an episode. Listen to it now and before you test any more marketing activity.
Here's the podcast. Click the large arrow to play, or hover over the media player and click on the icon on the bottom right corner to download it.
You can also access it in Apple Podcasts, Stitcher, Google Podcasts, numerous other podcast apps or Spotify.
What Next: