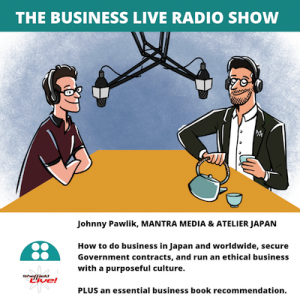 In today's radio show: Ikigai, culture, ethics and purpose; doing business with Japan and a book recommendation. The programme was broadcast on live radio on Friday and the podcast is below.
Johnny Pawlik is global managing director of Mantra Media Ltd, "driven by ethics and guided by knowledge, operating across five continents delivering strategic communications."
He also co-founded Atelier Japan, bringing beautifully crafted and made Japanese products from Kyoto to the UK, the rest of Europe and the USA.
Johnny describes how Mantra has grown to a global team of 40 while maintaining a distinct culture; gives advice for anyone wanting to do business with Japan (plenty of interesting observations about the country, too) and recommends a book which made him reflect, change and develop.
Here's the podcast. Click the large arrow to play, or hover over the media player and click on the icon on the bottom right corner to download it. You can also access it in iTunes / Apple Podcasts, Stitcher or Spotify.
Full timings are below. Thanks Lucy at Mantra for the lovely illustration.
Timings:
0 – 2:55 introduction and updates, including reminders about the Social Enterprise UK Awards and the Sheffield Business Awards.
2:55 Who is Johnny Pawlik and what are Mantra Media's and Atelier Japan's specialities?
6:15 Creating the world's most active and engaged online community on Facebook – in a week – for Invictus Athletes in Australia.
7:08 Who are Invictus Athletes?
9:00 Post Traumatic Stress: It's PTS, not PTSD, says Johnny.
10:15 There are now 40 people in the Mantra team, globally, and the business's Sheffield base is Ikigai House, a grade II listed building. Ikigai means "reason for being" and Johnny explains why the philosophy of Ikigai fits with Mantra's values.
13:30 Mantra works with businesses large and small – and with Governments. How has Johnny secured contracts with Governments?
17:00 if you perceive that you're the cleverest person in the room – you're probably in the wrong room (or you're the wrong person!)
18:00 practical advice for anyone who wants to do business with Japan.
20:30 how Johnny and his business partner met, became great friends and began working together.
22:00 A shared philosophy of a "good life" – and is there ever any tension between business and friendship?
24:40 Why Johnny was accused of "communism" and his approach to leadership and  employee empowerment, wellbeing and autonomy, including specific ways in which Mantra puts this into practice. There's a shout out here for Dave Kneeshaw.
29:30 If you create an autonomous workplace, what key features does it need?
31:50 Did Johnny always want to visit Japan when growing up? What was the spark for his fascination with the country?
33:30 Culture, community and food.
35:38 Music break and how to get in touch.
36:45 What is Atelier Japan? It works with craftspeople and some businesses which have been around for 1000 years.
38:10 Not everything described as "Matcha" in the UK is the same. Johnny describes where the matcha imported by Atelier comes from – and where you can find it in Sheffield.
40:45 Where next for Mantra and Atelier?
43:00 Let's talk books. Why and what do we love?
44:08 A shout for Chloe Watmore and a recommendation: Marshall Goldsmith's "What Got You Here Won't Get You There" – why does Johnny love this book and what has he specifically implemented as a result of reading it?
45:00 "Don't hide from the truth you need to hear" – what was the truth Johnny needed to hear?
47:30 Why Johnny doesn't usually read business books
48:11 Other key takeaways from "What Got You Here Won't Get You There."
50:00 Getting in touch with Johnny (and a shout for his colleague Kim).
51:30 Wrapping up.
What next:
Enjoyed the show? Please leave a review or rating on iTunes / Apple Podcasts or Stitcher. Subscribe for new podcasts too.
That book recommendation again: "What Got You Here Won't Get You There," by Marshall Goldsmith.
Sheffield Live's website is here.
The Business Live radio show is broadcast live every Friday on Sheffield Live radio and available as a podcast in iTunes here.
To get new podcasts and practical advice in an accessible, entertaining format, join my free newsletter email list (if you're not already signed up). Just pop your details in below and look out for a confirmation email.