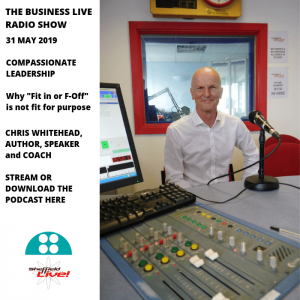 Chris Whitehead, 60, began his career as a design engineer and has worked on multi-billion pound construction projects all over Europe.
Now he helps people become the "best version of a leader" they can be and find new energy and enthusiasm for work through compassionate leadership.
Fascinated by the people dimension of business and how to apply neuroscience and psychology to modern business, Chris says managers today have more of a healthy curiosity about what makes people tick.
Chris' new book offers tools and techniques to adopt an authentic, enabling and effective leadership style, consistent with your values. He shared some of them in the Sheffield Live radio studio on Friday in this latest episode of Business Live.
Here's the podcast, which you can also access in iTunes, Stitcher or Spotify. Full timings are below.
Timings:
0 – introduction and updates: a no-deal warning from the head of the CBI; how to turn £20 into £25 with The Abbeydale Picture House; Changing Faces' event; applications open for the 2019 UK Social Enterprise Awards.
4:23 who is Chris Whitehead and how his career in engineering and construction led to a fascination with leadership and neuroscience.
12:10 in the new generation of managers there's more of a healthy curiosity about what makes people think. Chris gives an example from Attachment Theory.
14:00 "Fit in or F-off" – not any more, says Chris, in a world where capital is cheap and talented people are hard to find, people are the most important factor in a business' success.
15:20 how an understanding of Attachment Theory and using behaviours such as "PACE" which Chris describes can benefit managers.
16:45 "mindfulness" is a word of the day and by slowing down and asking more questions you can improve your performance as a leader at work.
17:40 people are tired of the "Apprentice" mode of management. Successful business is about creating a places where people can thrive.
19:00 Chris' book Compassionate Leadership is split into four parts. A foundational section covers neuroscience and psychology, defence mechanisms, systems thinking and more. In parts two and three, the book explores what this means when it comes to working with individuals and with teams. Part four is about self-care because how you work with people is dependent on how well you look after yourself.
22:48 "A saint Chris once knew" – Reg Davey, who taught Chris to play the euphonium – and the life-enhancing impact of music lessons when Chris grew up in Rotherham.
27:50 it's crazy for schools to downgrade music and the arts, says Chris.
29:05 music break; upcoming events from the Social Enterprise Exchange and Changing Faces.
32:30 back to Chris: trusting the top team, to whom "much is given and much is required." Employees should be able to trust boards; boards should work together effectively as a team and can't afford to be self-indulgent. "The board of Carillion were really filling their own boots," says Chris.
35:00 pivotal questions for boards to ask of themselves.
37:00 why Richer Sounds made the headlines recently.
38:22 Chris is a trustee of the City of Sheffield Rowing Club and has long been "addicted" to rowing – a "fascinating sub-culture," he says.
43:00 why Chris has launched a podcast, what it covers and some of his guests.
46:00 Where to find Chris' book and podcast and how to get in touch.
47:27 A final thought of great relevance to modern business.
48:50 – 50:37 Wrapping up; how to get in touch; event reminders.
What next:
Enjoyed the show? Please leave a review or rating on iTunes or Stitcher. Subscribe for new podcasts too.
Chris' websites: The Compassionate Leadership book; Damflask Consulting; his podcast; Chris' blog on Medium.
Sheffield Live's website is here.
The Business Live radio show is broadcast live every Friday on Sheffield Live radio and available as a podcast in iTunes here.
To get new podcasts and practical advice in an accessible, entertaining format, join my free newsletter email list (if you're not already signed up). Just pop your details in below and look out for a confirmation email.