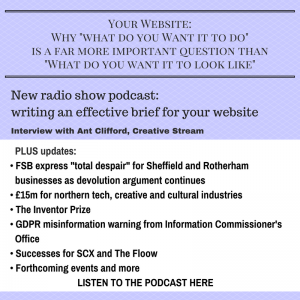 What do you want your website to do for you? It's the key question which must be at the top of your brief, not what do you want your site to look like according to Ant Clifford of Creative Stream.
Ant joined me in the Sheffield Live radio studio on Friday as my guest on the Business Live radio show; you can listen to the podcast below. And if you're likely to be specifying a website build, you really should listen to Ant's advice.
Ant covers how to come up with a powerful and specific brief to ensure your website design and build agency delivers a site that does what you need it to do, and generates a return on your investment.
Creative Stream delivers coding, bespoke web design, animation, content management and more, to businesses, charities and social enterprises. Ant also covers effective proposals, communication, design and technical briefs in the interview. Plus outside the business, Ant's band Lofter are back together and have an exciting series of gigs coming up.
The show also includes announcements about business funding, data protection, some local success stories and plenty more. Here's the podcast (timings are below):
Timings:
0 – 6:22 introduction including: a call for your input to the radio show; "total despair" expressed for Sheffield and Rotherham businesses by the FSB in response to Yorkshire devolution approach;
6:22 – 33:30 Ant Clifford;
33:30 – 40:16 announcements, including:
£15m to "boost the tech, creative and cultural industries" through The Northern Cultural Regeneration Fund;
a new prize fund to help inventors get products which will make a positive impact to market: The Inventor Prize from Nesta and the Department for Business;
big rise in numbers of businesses run by people of 55 and above;
a warning from the Information Commissioner's Office to be wary of false information and media coverage around the GDPR;
ACS' community barometer report shows post offices, convenience stores and specialist food shops have most positive impact on local communities;
40:16 – 45:12 further updates: Sheffield firm SCX selected to design, engineer,, build and install a retractable grass pitch for new Tottenham Hotspur stadium; telematics technology founder The Floow announce opening of their first North American office;
Forthcoming events including StartUp day from The Business and IP Centre Sheffield on 21 September; Connect Sheffield; MADE and more;
45:12 – 46:20 wrapping up and close.
More about my Business Live radio show (which you can hear every Friday morning from 9-10am on Sheffield Live radio).