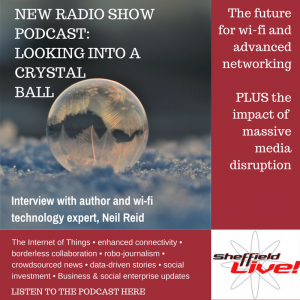 Here's a tasty word salad: The Internet of Things, enhanced connectivity, borderless collaboration. Let's mix it all up with some robo-journalism, crowdsourced news, and templated, data-driven stories.
Sprinkle on a light dressing and enjoy. It's your new serving of the Business Live radio show, first broadcast on Sheffield Live FM radio on Friday 4th August. Listen to the podcast below.
The show gives you an update about some of the enormous changes taking place in journalism and the media right now. Then it features an interview with Neil Reid, an internationally published author of three books about wireless technology, including his latest best-seller "The Why of Wireless."
Neil has worked on Wi-Fi deployments at some of the highest profile public venues in the world. At the invitation of ITI Network Services, (one of my and Keep Your Fork's clients) Neil recently came to Sheffield – and I recorded this in-depth interview in which he offers a view into the near future for Wi-Fi and advanced networking.
Plus there are new figures from Big Society Capital about social investment in the UK, and other business and social enterprise updates.
Podcast:
Timings:
0 – 9:48 introduction and media disruptions taking place right now;
9:48 – 14:05 updates and forthcoming events: Power to Change's Community Business Weekend; Business and IP Centre; the Social Enterprise Exchange programme; the MADE Entrepreneur Festival; new figures from Big Society Capital about social investment in the UK;
14:05 – 41:17 Neil Reid
41:17 – 44:17 recap of the Taylor Review into modern working practices (more about this here)
44:17 – wrapping up: more about social investment: members of the Global Impact Investing Network expecting to deploy more capital and make financial and social returns in 2017; the forthcoming Connect Sheffield event; the Sheffield Business Awards.
More about my Business Live radio show (which you can hear every Friday morning from 9-10am on Sheffield Live radio). Enjoyed this? Share it using the buttons below.