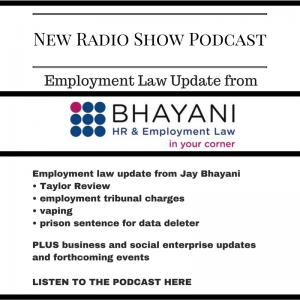 If you're running a business or social enterprise, and employing anyone or working with self-employed people, then the proposals of the Taylor Review into modern working practices are likely to impact on your business.
Employment law specialist Jay Bhayani joined me on the radio last Friday to give an update and analysis of developments in employment law, including the Taylor review which was recently published.
The review proposed changing the (often misunderstood) "worker" status to "dependent contractor," in order to make a clearer distinction between people who are genuinely self-employed and those who are not.
It made several other proposals too: listen to the podcast to hear more about how these could affect you.
Also of note relating to employment law: last week the Government's decision to impose Employment Tribunal Fees was overturned by The Supreme Court in a unanimous ruling that the Government had acted unlawfully and unconstitutionally when they introduced legal fees in 2013; and some recent interesting cases relating to vaping and to imprisonment of a former employee.
The show also includes business and social enterprise updates and forthcoming events. Here's the podcast:
Timings:
0 – 7:10 introduction and updates, including analysis showing that 50% of the UK's electricity could be generated by renewable sources by 2030; the NatWest SE100 Social Business Awards now open for entries; growth boom in UK's creative industries; a massive fine from the Information Commissioner's Office to a business sending emails to opted-out addresses;
7:10 – 32:38 Jay Bhayani
32:38 – end other updates, including a dramatic increase in overseas investment into the Sheffield City Region; first local investment from Northern Powerhouse Investment Fund; a massive range of forthcoming events.
More about my Business Live radio show (which you can hear every Friday morning from 9-10am on Sheffield Live radio). Enjoyed this? Share it using the buttons below.