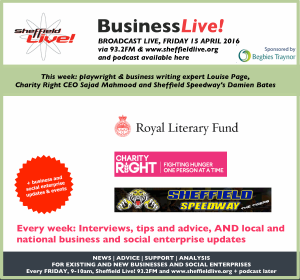 Three treats for you to enjoy from yesterday's Business Live radio programme, broadcast on Sheffield Live (93.2FM and online) and available as a podcast here.
Louise Page is the acclaimed playwright known for Salonika, Another Nine Months, The Statue of Liberty, Love From a Stranger and many other works.
Louise has also written extensively for TV and radio, including for ten years on BBC Radio 4's radio serial The Archers.
She is a specialist in clear and effective business writing too, so gave listeners tips for better writing and storytelling.
Not only what to do better – but the biggest and most common mistakes.
And Louise flagged a Royal Literary Fund scheme through which businesses can access – free of charge – writing support from authors, playwrights and poets.
Sajad Mahmood was my second studio guest. Sajad is chief executive of Yorkshire based Charity Right, an international food programme providing regular meals to impoverished children.
Sajad recently visited Somaliland with a delegation of leading international aid charities to see the devastating effects of four seasons of poor rainfall.
And Damien Bates is the co-owner of Sheffield Speedway – an institution in the city running for around 70 years. Damien and partners bought the business in 2014, and I visited the track last week to learn more about why he did so, and how the Speedway works with local businesses.
Listen to the podcast (timings below; music played in the show removed):
Timings:
0 – 8:35 introductions and updates, including new research into workplace stress and its impact on productivity; results from the 2016 Sheffield City Region Quarterly Economic Survey (QES); some forthcoming events
8:35 – 22:55 Louise Page
22:55 – 42:10 Sajad Mahmood
42:10 – 51:32 Damien Bates
More about the Business Live radio show.