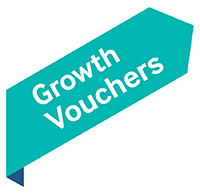 Sheffield business advisers – including me – are coming together next week (on Tuesday 18th November) to offer a free 'taster day' to local small firms. The drop-in session will demonstrate the benefits of getting professional business advice, explain how small businesses can benefit from the Government's Growth Voucher programme, and show attendees how to apply.
Small businesses are encouraged to drop in to the Growth Voucher funding and networking event, which will be held at the Sheffield Hilton Hotel at Victoria Quays between 7:30am and 11:00am.
Organised by the Business is GREAT campaign with support from Growth Voucher Delivery Partners Winning Pitch, the session aims to help raise awareness amongst small businesses in the area about how they can benefit from receiving a Growth Voucher.
Growth Vouchers help small businesses towards the cost of professional advice in areas such as finance and cash flow, digital technology management skills and sales & marketing. Launched earlier this year, the programme enables businesses that want professional advice to access up to £2,000 to cover half the cost. I'm proud to be an accredited adviser, which I wrote about here.
Businesses at the Sheffield event will have the opportunity to have one-to-one conversations with their local Growth Voucher Advisers, network with other businesses and learn about eligibility, how to apply and how they can best use Growth Vouchers to boost their business.
The accredited Growth Voucher Advisers who are speaking at the event are:
· Angela Stead, from Switchstance, who advises on Making the most of digital technology
· Steve Hardman from The HR Department who advises on Recruiting and developing your staff
and of course me – I advise on Marketing, attracting and keeping customers
The event will be a drop-in session so attendees can arrive at any time between 7:30am and 11:00am to talk to advisers. There is no charge, but it is recommended that businesses register their interest by contacting Winning Pitch (details below) with the time they anticipate arriving to ensure an adviser is available to speak to them.
John Leach from Winning Pitch said: "We believe that good quality, professional advice is vital in helping businesses across the UK to grow. I'd encourage small businesses in the Sheffield area to attend the Growth Vouchers event and find out how strategic advice can benefit them and how the Growth Voucher programme can help cover the cost."