The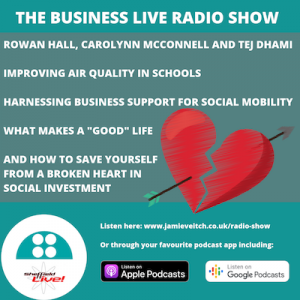 levels of nitrogen dioxide and other pollutants near to many schools are far too high and breach safe limits.
Air pollution has a profound effect on health, but a new project to "green-up" a school playground could make a dramatic improvement to air quality, and, thanks to a research partnership with The University of Sheffield, will provide evidence and a "proof-of-concept" to other schools (policymakers too).
In this episode of the Business Live radio show guests Rowan Hall and Carolynn McConnell discuss the #GoGoGreen project and the support it is receiving from volunteers, local businesses and Sheffield Business Together.
Also on the show: Tej Dhami, MD of social impact investment consultancy The Change Coefficient, with crucial advice about social investment and what should you think about if you run a mission-driven organisation and are seeking an investor. Lots more too about living your values.
Here's the podcast. Click the large arrow to play, or hover over the media player and click on the icon on the bottom right corner to download it. The timings are below.
You can also access it in Apple Podcasts, Stitcher, Google Podcasts, numerous other podcast apps or Spotify.
Timings and key points:
0 – 3:30 introduction, how to put yourself forward to be on the show and a recap of last week's show
3:30 Rowan Hall is a parent governor at Hunters Bar Infants School and describes the Go Go Green Initiative. Across the board, many schools are close to or exceed air quality levels.
The University of Sheffield is examining air quality in inner city schools and is working with the school which is preparing to plant a living green wall.
Rowan explains the concept and make-up of a living green wall.
This could significantly improve air quality: evidence from schools in London is encouraging. But this level of study has not been done before.
Improving air quality is expected to improve health, happiness, wellbeing and concentration and reduce absenteeism.
Sheffield is in "special measures" for air quality. This work will demonstrate what can be done; it also stimulates discussion about how to reduce the causes of air pollution (not only deal with the effects).
Creating a fully-grown living green wall involves a lot of work and help from volunteers – many businesses in Sheffield have assisted too, and Sheffield Business Together has enabled this.
14:25 Carolynn's work as Sheffield's "business connector" for Business In The Community. "Businesses are doing loads for the community" but her role is about connecting businesses to the broader Sheffield challenges, helping businesses make more of an impact by working together, directing activity to the constituencies with the lowest social mobility, and a skills exchange programme.
An immediate need and opportunity for businesses.
19:45 All of the evidence shows that if this greening-up project works it can be picked up by other schools as a "blueprint."
22:15 How Sheffield Business Together supported the charity Snowdrop, which provides long-term support to empower survivors of human trafficking.
27:30 Where to find more information about the #GoGoGreen programme, Hunters Bar Infants School (and the sponsor a screen campaign); and Sheffield Business Together.
29:20 Recap and getting in touch.
29:50 Tej Dhami. Tej is MD of The Change Coefficient, a social impact investment consultancy. Her business works with social enterprises, and with commissioners such as local authorities and The United Nations.
32:00 Examples of the type of work The Change Coefficient supports and how it drives better social outcomes.
34:00 What is a Social Impact Bond, how does it incentivise innovation, impact, solving problems or making the most of opportunities? Tej explains.
37:00 What is the business model for The Change Coefficient and why should people trust advice from Tej and her team?
39:00 The biggest determinant of a successful consultancy engagement.
41:20 Tej's advice on (social) investment readiness and how to find a partner aligned with your mission.
44:00 saving yourself a broken heart in investment.
44:20 Tej's path to running The Change Coefficient and what really excites her about her work.
46:30 Questions Tej has considered about what makes a good life, what can we do in terms of Government and infrastructure to support this, and living your morals.
48:15 Lessons learned from when Tej ran an incubation programme in India. A lot of investment actually went to expats, not to locally-owned entities. Tej describes the initiatives and learning to democratise this – and why she's a massive fan of peer learning.
50:40 How to contact Tej and The Change Coefficient, and a warning of being steered down a path by people with a hidden agenda.
51:50 Wrapping up.
What next:
Enjoyed the show? Please leave a review or rating on Apple Podcasts or Stitcher. Subscribe for new podcasts too.
The GoGoGreen Project Twitter and Sheffield Business Together.
Sheffield Live's website is here.
The Business Live radio show is broadcast live almost every Friday on Sheffield Live radio and available as a podcast in Apple Podcasts here.
To get new podcasts and practical advice in an accessible, entertaining format, join my free newsletter email list (if you're not already signed up). Just pop your details in below and look out for a confirmation email.