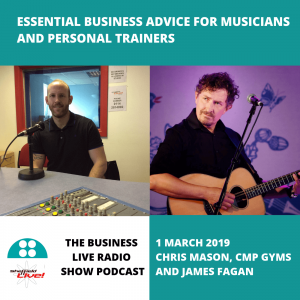 James Fagan is a multi-instrumentalist, bouzouki, guitar and mandolin player, singer and doctor.
James and partner in music and life Nancy Kerr have toured internationally as Kerr Fagan, have thousands of fans across the world, and been named Best Duo in the BBC Folk Awards twice.
James has performed with other hugely-acclaimed artists including Eliza Carthy, Spiers & Boden, Bellowhead, Cara Dillon and Martin Simpson.
And he has some of the most important business advice I've ever heard for musicians which you can hear in this latest episode of the Business Live radio show.
James covers musicians' autonomy and empowerment through ensuring they "own the means of production," is forthright about crowdfunding and the importance of diversifying – and tells a wonderful tale or two in our conversation.
The show also features Chris Mason, owner of CMP Gyms. The fitness industry is a cut-throat, dog-eat-dog world, says Chris, who's seen first-hand the difficulties which many personal trainers face in making a living.
But now Chris, who with his 6-strong team trains 200 people at his 2000 sq foot gym, also mentors other fitness professionals and helps them avoid common business pitfalls in their industry. He too has tips you can learn from.
Fascinating insights from both of today's guests, applicable directly to music and fitness, but way beyond these industries too. Here's the podcast which you can stream or download (it's also here in iTunes).
Timings (music played on air is not included in the podcast):
0 – 3:17 introduction and forthcoming events including Classical Sheffield, The Outdoor City Sheffield, and more
3:17 – 27:20 Chris Mason
27:20 – 52:17 James Fagan
What next:
Find Chris Mason's business, CMP Gyms website here; and find CMP on Facebook.
Find James Fagan via www.nancykerr.co.uk and on twitter here.
Watch this live performance by Nancy Kerr and James Fagan of the track James chose at the end of the interview in the live radio show.
The Business Live radio show is broadcast live every Friday on Sheffield Live radio – and available as a podcast in iTunes here.
To get new podcasts and practical advice in an accessible, entertaining format, join my free newsletter email list (if you're not already signed up). Just pop your details in below and look out for a confirmation email.