Lots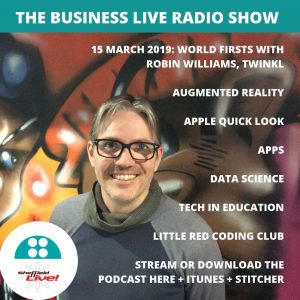 of people know Twinkl for its downloadable printed resources for schools. With its mandate "we help people to teach" the business is also a pioneer in digital innovation, augmented reality and apps.
Twinkl is used by over 4 million people, in over 170 countries.
This week's radio show guest, Robin Williams is Twinkl's Head of Digital. Stream or download the podcast below or in iTunes and Stitcher. Robin covered:
Twinkl's stratospheric growth – when Robin joined the business 6 or 7 months ago it had a team of 370, it now employs around 500 people (many ex-teachers); there are over 500,000 resources available on the website.
Its Augmented Reality (AR) resources – all free to download. These include the world's first multi-player AR educational game, Little Red Coding Club, which also teaches children to code and collaborate; ARchitect, an augmented reality game in which players can build towers, bridges and more in a world in which realistic physics apply; and its range of Twinkl Originals AR-ready books.
Twinkl's catalogue of 3D Apple Quick Look models.
How other businesses and organisations can make use of Apple Quick Look.
 Supporting existing educational curriculum in multiple countries – and helping educators meet students' future needs.
What the Queen's Award for Enterprise in International Trade (which was presented to Twinkl on 11 March 2019) means for the business.
The importance of "not just chasing audience numbers" but tying everything in with learning objectives.
Using Blender, the free and open source 3D creation suite.
How being Google-enabled helps Twinkl as a worldwide business.
Advice for anyone interested in developing a career in data analytics (and Robin's path to his role).
Data measurement for businesses using low cost and free tools – and how critical it is to not only consider quantitative data, but qualitative too. Robin describes Twinkl's approach to this.
Here's the podcast to download or stream (or find it in iTunes and Stitcher):
What next:
Descriptions and links to Twinkl's Augmented Reality Apps including Little Red Coding Club and ARchitect.
Blender is the free and open source 3D creation suite.
The podcast of my interview of 2018 with Twinkl CEO, Jon Seaton.
Business Live radio show is broadcast live every Friday on Sheffield Live radio – and available as a podcast in iTunes here.
To get new podcasts and practical advice in an accessible, entertaining format, join my free newsletter email list (if you're not already signed up). Just pop your details in below and look out for a confirmation email.