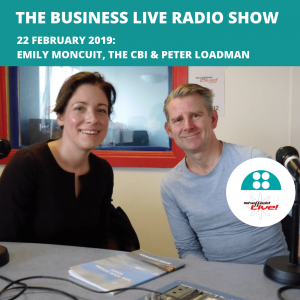 Unless you never engage with the news you'll have heard a lot from The CBI (The Confederation of British Industry) lately.
The organisation has been outspoken about the impacts on business of "crippling uncertainty, the stark possibility of a no-deal Brexit, and failed politics," to quote from some of its recent tweets.
So I was curious to invite The CBI's new Associate Regional Director for Yorkshire and The Humber, Emily Moncuit, onto my radio show. Scroll down for the podcast.
Emily discussed The CBI's purpose: "economic prosperity and helping business create a more prosperous society." The organisation has a diverse membership and Emily explained the nature of this and how it provides a voice for firms at a regional, national and international level to policymakers.
She covers her role and key objectives over the coming year, and we had to discuss the B and the D words – Brexit and Devolution. CBI is calling on Government to rule out the possibility of a "no-deal" Brexit, but what can firms actually do, now, in such uncertain times?
Beyond Brexit uncertainty, Emily covered the biggest and most pressing concerns for Yorkshire firms and what The CBI does to support members. And she spilled the beans on her own background in business and regeneration. You can learn more about The CBI here.
Also in this episode: a return visit for Peter Loadman (last on the show a couple of years back).
Peter's been working extensively in Ethiopia for several years now. I found his description of the nature of his work and the challenges he helps young entrepreneurs to address to be fascinating.
The country elected a new Prime Minister, Abiy Ahmed in 2018 and implemented a peace treaty with Eritrea, finally bringing the countries' devastating two-decade conflict to a close. Peter described how the changes have affected ordinary people.
Peter also covered his work with The University of Sheffield Management School's SCA-EMP Toolkit and told me about his book, Live Your Future Today. This is a practical guide using a series of exercises to help readers better understand their purpose, establish their goals and develop strategies and plans to succeed.
Here's the podcast (timings below; you can also get it through iTunes here):
Timings:
0 – 2:15 introduction and updates including today's Mi Amigo flypast and memorial
2:15 – 19:05 Emily Moncuit
19:05 – end Peter Loadman
What next:
The Business Live radio show is broadcast live every Friday on Sheffield Live radio – and available as a podcast in iTunes here.
To get new podcasts and practical advice in an accessible, entertaining format, join my free newsletter email list (if you're not already signed up). Just pop your details in below and look out for a confirmation email.