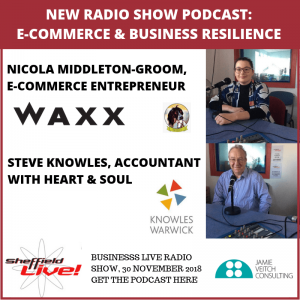 Here's a fantastic new radio show podcast with practical advice on e-commerce and business resilience from two expert guests.
Scroll down to stream or download the podcast, which covers:
Nicola Middleton-Groom runs Waxx, selling men's, women's and kids' underwear, swimwear and other apparel.
Her business has the UK distribution rights to this French firm's funky, fresh and colourful products. Nicola's involvement started while she was at University in Manchester.
In this episode of Business Live, Nicola discusses how she developed the brand in the UK – and built an e-commerce website from scratch to sell underwear directly to consumers. "Retail is where the fun is at for me," she says.
Nicola researched WooCommerce, Magento and Shopify before she settled on Shopify to build the Waxx website. In our chat she described why she chose Shopify and how she developed the site to include clear and simple navigation to make it easy as possible for people to buy.
She covers templates and their limitations, the pros and cons of Shopify, testimonials and integration with ERP and accounting systems. This (integration) has proven a crucial time-saver for a business generating many online orders every day. Nicola also explains why her business, with its own e-commerce site, has a presence on Ebay and Amazon.
And that's not all. In the chat we hear about some of Nicola's other work including Temporary Events, a  pop-up restaurant business and Paw Products. Plus Nicola's inspirations and her favourite podcasts. Nicola also explains how and why she is fundraising for research into the rare blood cancer, Myeloma – in the past three years she has raised over £50,000.
Our other guest today was Steve Knowles – the accountant with a heart and a soul – making a return visit to the studio.
It's always a pleasure to hear from Steve even though he came in bearing worrying predictions about the economy. But that's the point: don't stick your head in the sand.
In our chat today Steve discussed protecting your business from external events, a potential downturn or recession. "Regardless of whether we have a hard or a soft Brexit, it looks like there will be a downturn in the natural economic cycle," he says. Find out why by listening to the podcast.
Steve runs through some excellent tips (to implement now) about credit control, strengthening and protecting your cashflow, building positive relationships with your bank, the importance of continuing to invest in training and marketing, and more.
Here's the podcast:
Timings:
0 – introduction, recap of last week's show and updates including the Social Enterprise UK Social Enterprises of the Year and the Sheffield Business Awards; how to get in touch,
4:15 – 31:02 Nicola Middleton-Groom – Managing Director
31:02 – 49:04 Steve Knowles
49:04 – end wrapping up
What next?
More about my Business Live radio show, and other podcasts with interesting guests.
Check out  Waxx, Paw Products and Myeloma UK
Check out Knowles Warwick
To get new podcasts and practical advice in an accessible, entertaining format, join my free newsletter email list (if you're not already signed up). Just pop your details in below and look out for a confirmation email.