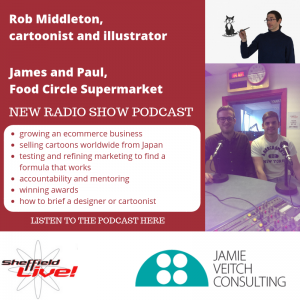 By writing "Rob the cartoonist" I'm not imploring you to go and mug an illustrator.
Please don't.
But do listen to this new interview with Rob Middleton, a cartoonist, illustrator and teacher based in Japan, on my latest radio show.
The programme also features studio guests James Barthorpe and Paul Simpson of Food Circle Supermarket. The podcast is below.
James and Paul cover:
Food Circle Supermarket is an online retailer purchasing surplus food from manufacturers, which would otherwise go to waste, and selling it to consumers at a discount.
The business has grown at least 10-fold since March, and this week won the Hallam Enterprise Award.
How the business has progressed, highs and lows of the last few months.
Understanding their customers' requirements and figuring out a marketing formula which works.
Testing, tracking (but avoiding vanity metrics), learning and refining.
"Not everything works first time. It took us a few months to find the formula that works; now we've found it we're experiencing significant growth."
Developing partnerships.
Help from Business Sheffield, Sheffield Hallam University and RIDO.
Other winners in the Hallam Enterprise Awards.
What Paul and James can do with their £5,000 prize.
Rob Middleton covers:
Rob's journey from financial advisor to illustrator and from Lowestoft to Japan via Budapest.
His influences as a cartoonist.
Creating resources for use in the classroom.
How feedback from children changed his cartoons.
Rob's work illustrating books for authors all over the world.
How he's secured clients, his previous "half hearted" approach to marketing, and what's working now.
A lightbulb moment: "If I'm making some money by people finding me by accident, if I actually learned how marketing worked, I would get more customers."
Doing (business and marketing) courses doesn't lead to results unless you implement what you've learned and take action.
The importance of accountability to freelancers and small business owners – not in doing what you sell and are good at, but in taking action to develop your business.
Gerald the Goat.
The social media approach that works for Rob.
How to give a designer or illustrator a tight, specific brief.
Living and working in Japan.
Here's the podcast to download or stream (or find it in iTunes and Stitcher):
Timings:
0 – 3:01 introduction and updates, including Sheffield named third best city in the world in which to start a digital firm; Sheffield Business Awards shortlist revealed; reminder about new Social Enterprise UK research,
3:01 – 17:52 James and Paul, Food Circle Supermarket,
17:52 getting in touch with the show,
18:25 – end Rob Middleton.
What next?
More about my Business Live radio show, and other podcasts with interesting guests.
Rob Middleton's website is here. Food Circle Supermarket's website is here. The shortlist for the Sheffield Business Awards is here.
To get new podcasts and practical advice in an accessible, entertaining format, join my free newsletter email list (if you're not already signed up). Just pop your details in below and look out for a confirmation email.