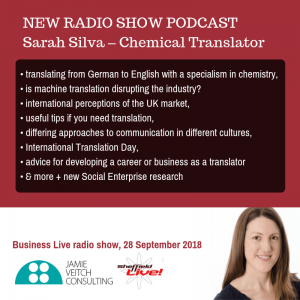 PLUS new report reveals £60bn contribution made by social enterprises to the UK's economy and other facts and figures.
It's International Translation Day this Sunday. What better time then for a radio interview with consultant translator Sarah Silva. Listen below.
Sarah is a chemist who translates science into sales for international clients and the author of "Small Island Big Business – The Insider's Guide to Success in the British Market."
She joined me on my latest Business Live radio show, broadcast on Sheffield Live this morning (with the podcast available below), to discuss:
her work, translating from German to English with a specialism in chemical information,
whether machine translation is disrupting her industry,
international perceptions of the UK market,
useful tips if you need translation, how to go about it and what to look for,
international business and differing approaches to communication in different cultures (with SUPERB advice if you want to do business with German customers),
the impact of Brexit,
International Translation Day,
advice for developing a career or business as a translator
I really enjoyed talking with Sarah. You'll enjoy the podcast – it's here (and in iTunes and Stitcher):
Timings:
0 – 2:10 introduction and updates
2:10 Sarah Silva
46:54 news about the £60bn contribution made by social enterprises to the UK's economy with other facts and figures from the new "Hidden Revolution" research and report
49:48 end
What next?