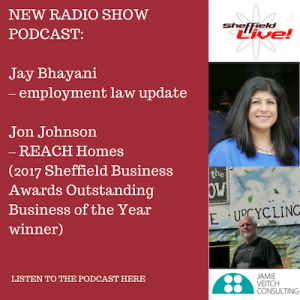 Friday's Business Live radio show was broadcast the morning after the Sheffield Business Awards, held at Ponds Forge and featuring recognition for the region's businesses. With record entry numbers, competition was fierce – and the celebrations even more so! The dancing was full throttle when I left at 2am to snatch a few hours sleep before Friday morning's radio show.
So I was slightly relieved to have pre-recorded a new interview for the programme. On Wednesday 6th December, Jay Bhayani popped into the studio to give another update on developments in employment law. Do listen to ensure you're up to speed.
The winner of the Outstanding Business of the Year at the Sheffield Business Awards on Thursday evening was REACH Homes, a social enterprise using reclaimed and recycled materials to build affordable eco-homes from shipping containers.
Ex-police inspector Jon Johnson runs REACH (and recycling-based social enterprise Strip the Willow). Last year I interviewed Jon for the Business Live radio show, and for Environment Journal magazine. Since he's just won the Outstanding Business of the Year Award, it was a timely opportunity to play the 21 minute interview with Jon (and Jordan Gell) again. Enjoy the podcast, below.
Podcast:
Timings:
0 – 6:43 introduction and updates, including suspension of license for Uber in Sheffield; accolade for The Real Junk Food Project: Sheffield;
6:43 – 26:50 Jay Bhayani
26:50 Equity raise launched by Sheffield WAN Disco; founder David Richards announces £1m+ to support tech education initiatives; Sheffield Business Awards;
27:46 Jon Johnson – intro to interview, and interview originally recorded in 2016
28:51 interview with Jon Johnson
50:21 recap; getting in touch; new TV show on Sheffield Live.
What next?
More about my Business Live radio show. Meanwhile if you like reading useful, practical advice – that's also entertaining, then you're welcome to join my free newsletter email list (if you're not already signed up). Just pop your details in below.