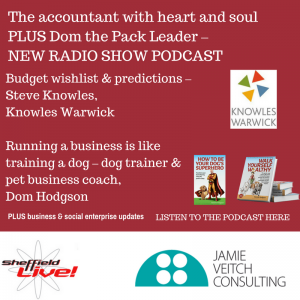 Accountancy, tax, a wishlist and predictions for the budget, dog training and coaching pet business owners. What a radio show today!
The last time Steve Knowles was on my radio show a listener emailed to say how refreshing it was to hear "an accountant who appears to have both a heart and a soul."  Today he was back, heart, soul and all.
Steve is MD of Knowles Warwick. He came into the Sheffield Live radio studio with his wish list – and predictions – for next week's budget. Operating a business? You need to listen to this. Steve covered: potential changes to the VAT threshold; Making Tax Digital; IT; house-building; airport infrastructure and why policymakers should have more imagination; IR35 and taxation; Stamp Duty and more.
Also on today's show: Dominic Hodgson, owner of Pack Leader Dog Adventures; author of two books including How to Be Your Dog's Superhero and Walk Your Way to Wealth; dog trainer and pet business coach.
With over 9 million pet pooches in the UK, businesses based on looking after dogs (and their owners) are springing up everywhere. But many pet businesses get their marketing  wrong. Dom helps them get it right.
Dom discussed
why good business is like training a dog;
how he helps dog owners train their pets and pet business owners to develop thriving businesses;
why he took the plunge from a cosy existence as an employee with dependable perks and benefits to setting up his business;
how providing dog adventures and experiences enabled him to position his initial business apart from everyone else;
and how to help folk with a passion (whether for pets or anything else) translate that into a business they love running.
Listen to the podcast here (timings are below; music played in the show removed; you can play the podcast by streaming or right click to download it):
Timings:
0 – 6:10 introduction and updates, including World Social Enterprise Day; new business and job creation figures for Sheffield City Region;
6:10 – 28:06 Steve Knowles
28:06 – 47:07 Dom Hodgson
47:07 – 50:04 wrapping up and how to get in touch to be on the radio show
What next?
More about my Business Live radio show. Meanwhile if you like reading useful, practical advice – that's also entertaining, then you're welcome to join my free newsletter email list (if you're not already signed up). Just pop your details in below.