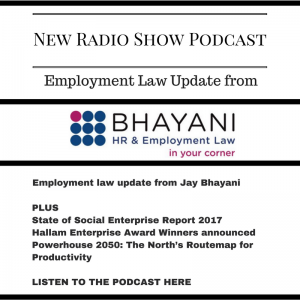 Got a burning need for hotdogs or tealights? Then you probably know exactly where to get them. And our collective hunger for pork-filled baps and enjoyment of assembling flat-packed furniture means Ikea is expanding.
Its 20th UK store just opened in Sheffield, creating 480 varied jobs in the city. Good new jobs should be celebrated, says employment law specialist Jay Bhayani who joined me in the Sheffield Live radio studio on Friday to run through the latest updates in employment law.
This week's programme also includes key findings from the Social Enterprise UK Start of Social Enterprise report.
Jay's interview covers:
the recent abolition of legal fees to start employment tribunal claims;
employment status: an employment tribunal test case ruling that three of Addison Lee's self-employed drivers should have been classed as workers – meaning they and other drivers may be owed wages and holiday pay;
Ryanair flight cancellations: can the firm ask their pilots, many of whom are self-employed, to defer their holidays?
Apprenticeships "growing faster than graduate roles."
Podcast:
Timings:
0 – 5:19 introduction and updates, including new report, Powerhouse 2050: The North's Routemap for Productivity, which "sets out sets out fully costed, evidence-based proposals for four areas of Northern excellence which could, with government funding and business support, rival the best countries and regions in the world."
5:19 – 30:26 Jay Bhayani of Bhayani HR and Employment law;
30:26 – 39:33 New figures from the Office for National Statistics about zero-hours contracts; key findings from the brand new The Future of Business – The State of Social Enterprise Report 2017, published by Social Enterprise UK (you can find the whole 48 page report here);
39:33 a chance to sing karaoke with a live rock band; the winners of Sheffield Hallam University's Hallam Enterprise Awards; wrapping up.
More about my Business Live radio show.