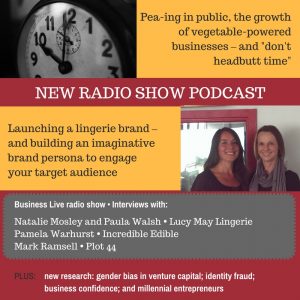 Friday's Business Live show, first broadcast on Sheffield Live radio and available as a podcast here, featured studio guests Natalie Mosley and Paula Walsh of Lucy May Lingerie, and interviews recorded this week with Pam Warhurst, founder of Incredible Edible, and Mark Ramsell, chair of Plot44.
There's plenty of great advice for business owners and social entrepreneurs.
Plus: updates about gender bias in venture capital; identity fraud; business confidence; and millennial entrepreneurs' desire for influence and social impact.
It's all in the podcast, which you can hear below; here are the details.
Pea-ing in public, the growth of vegetable-powered businesses – and "don't headbutt time"

Pam Warhurst trained as an economist, has held senior board level roles for all sorts of organisations and is the founder of the Incredible Edible movement.
Her TED talks have been downloaded or viewed more than a million times. Her book, crowdfunded and written in collaboration with my friends Joanna and Julian Dobson, is a riveting read: get a copy here.
And on Monday Pam came to Sheffield to discuss how food has been a catalyst for community action, for learning and education, and for business creation. This began in Todmorden, where Incredible Edible was founded in 2007, and it is now a worldwide movement stretching from Canada to New Zealand.
It's simple. "If you eat, you're in," says Pam. "Everyone understands food. Food could get people talking; even better, it could inspire people to take action."
Now Todmorden and many towns all over the world have boosted their local economies, through "getting pounds into the pockets of local food businesses so that over time they might be able to produce more and employ more people." And even through vegetable tourism.
So Incredible Edible is more than a simple story of guerilla gardening, growing gourds and planting a few peas in public places. But it's this simple story that often grabs folk's attention, and is the gateway to involvement. Pam figured out what would inspire action in her community.
Pam's talk on Monday was one of the most interesting I've been to. It was filmed by the Social Enterprise Exchange programme and I'll flag it when it's available to view. Meanwhile, Sheffield Live's Nicole Jewitt recorded a short interview with Pam, and with Mark Ramsell, chair of Plot44, an emerging social and community business who are refreshing long abandoned allotments in the Rivelin Valley in Sheffield and bringing them back into community and productive use. Have a listen to these in the podcast, below.
Two bra experts with stories they're busting to tell
With 48 years of lingerie industry experience (in international and high street brands) between them, Paula Walsh and Natalie Mosley have launched Lucy May Lingerie, which focuses on quality and perfect fit.
Their business has been three years in development and launched this month; products are made by hand in South Yorkshire and carry the Made In Sheffield mark.
Natalie and Paula popped into the radio studio and described how they have developed Lucy May, creating a detailed "Lucy May" brand persona and identifying and engaging with their target audience: users of escapism forums where female erotic literature fans discuss lingerie, styling, body confidence and books.
Paula and Natalie discovered that lingerie played a major role in the literary genre; Natalie commented "I realised there was a huge opportunity in targeting the women in these forums, who wanted to indulge their sensual side and regain confidence."
Do listen to the interview with Natalie and Paula: their tips on understanding your target audience, building a brand persona (as well as a customer profile), and on how they have funded and developed their concept – from ambition through to business launch – will be invaluable for any business.
Here's the podcast (the timings are below):
Timings:
0 – 9:49: introduction and updates, including new research finding that company directors are twice as likely as non-directors to suffer identity fraud; UK female founders are being ignored by male investors, according to new statistics released by AllBright; millennial entrepreneurs care less about money than baby boomers according to new HSBC research; and small business confidence has dropped in the UK for the first time since the EU referendum result, according the quarterly index from the Federation of Small Businesses.
9:49 – 32:21 Natalie Mosley and Paula Walsh
32:21 – 38:05: Pam Warhurst
38:05 – 43:08: Mark Ramsell
43:08 – end: wrapping up
More about my Business Live radio show (which you can hear every Friday morning from 9-10am on Sheffield Live radio). Enjoyed this? Share it using the buttons below.