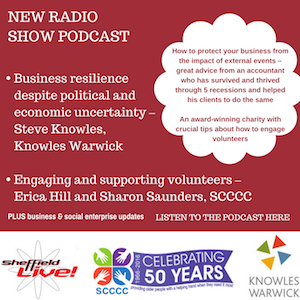 Businesses and social enterprises have been "thrust into political limbo" according to one commentator (a membership organisation – no vested interests in scaring people, I'm sure!)
Whether you were delighted, dismayed, or bewildered by the election result, you may have noticed that the uncertainty caused by the hung parliament has already brought out the doomsayers.
How can you ensure your business is protected, as far as possible, from the impact of uncertainty?
What can you learn from an accountant who has survived and thrived through five recessions (and helps his clients to do the same)?
Steve Knowles of Knowles Warwick joined me in the Sheffield Live radio studio on Friday 16 June for my weekly Business Live radio show. Here's the podcast (you can listen live through Sheffield Live 93.2FM and online).
Also on the programme: Sharon Saunders and Erica Hill of SCCCC ("S and Four Cs") which provides a range of services for the more vulnerable over 65s, including a much-valued "friendly visiting service" – and has been working in Sheffield for 51 years.
This month the charity was awarded the Queen's Award for Voluntary Service – great recognition for the organisation, with 11 staff and 75 volunteers. How has it maintained its values over 51 years, involved and engaged its volunteers? Listen to the interview to find out more.
Podcast:
Timings:
0 – 6:27 introduction and updates, including a new £1bn lending fund launched by HSBC for SMEs in Yorkshire and the Humber; call from community business champion, Power to Change, inviting research proposals; forthcoming events from the Business and IP Centre Sheffield;
6:27 – 16:09 Sharon and Erica, S and 4 Cs;
16:09 – 40:26 Steve Knowles, Knowles Warwick – firstly, commenting on the election result, then plenty of detail about resilience and how to work with your accountant as a trusted advisor;
40:26 – end (46:16) more updates, including Virgin Voom coming to Sheffield and Google to be guest of honour at new FSB Connect business networking event; and wrapping up.
More about my Business Live radio show (which you can hear every Friday morning from 9-10am on Sheffield Live radio). Enjoyed this? Share it using the buttons below.