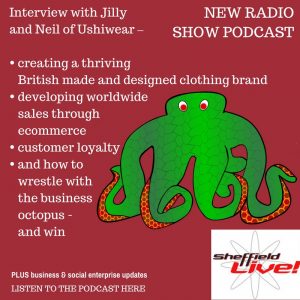 Create a great product, build a website – and the orders will follow – or will they?
Not necessarily, say Jilly and Neil Kapusi, whose first ecommerce website generated only one order in the first week after it went live.
But things are pretty different now.
Jilly and Neil joined me in the Sheffield Live radio studio on Friday 2nd June. They discussed the journey of Ushiwear – which Jilly launched in 2008 and grew from a garage based hobby business to a thriving British hand printed brand, selling all over the world.
Ushi is designed for "the fun, the adventurous and those who want to live whilst being comfy," and the firm has dramatically increased website sales, especially in the last year.
Jilly and Neil discuss:
Ushi's history and development
securing funding from the textile growth fund to develop manufacturing capability and grow the business
getting Ushi to the Yorkshire Show
how they achieved a four-fold increase in web sales
the support they have received through the Google Digital Garage which has helped to improve user experience, reducing checkout abandonments and page bounce rates.
how to work together successfully when your business partner is also your husband, wife, or partner in life
why running a small business is like trying to hold an octopus down
making your customers feel special
Podcast (timings below):
Timings
0 – 7:45 introduction and updates, including figures showing that investment in Northern Tech has soared in the three months to March 2017, according to Tech North's ongoing investment index, with £116.2 million of finance supporting the region; a new partnership "to help transform local communities" announced between community business champion, Power to Change and Marks & Spencer; and a political opinion poll with a difference from Tapton Golf Course: voting target boards have been installed at their driving range representing political parties; forthcoming events;
7:45 – 46:07 Jilly and Neil;
46:07 wrapping up and some book recommendations including Tim Harford's Messy and Tom Standage's History of the World in Six Glasses.
More about my Business Live radio show (which you can hear every Friday morning from 9-10am on Sheffield Live radio). Enjoyed this? Share it using the buttons below.