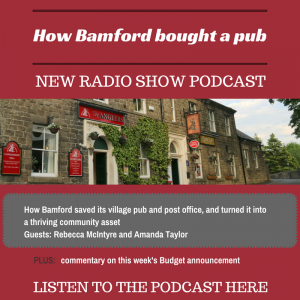 The Anglers Rest in Bamford – a few miles west of Sheffield – is more than a pub: it's a post office, cafe, music venue, meeting space for clubs and societies, art gallery and community hub.
But a few years ago its future was uncertain. Part of the portfolio of a remote PubCo, The Anglers Rest had suffered years of under-investment and a short-term approach. And in 2012 it was at risk of permanent closure.
That was when someone suggested the residents of Bamford buy the pub – and they raised over £260,000 through a 'community share issue' to do so. But their purchase was nearly thwarted at the last minute, until they were able to fight back, buy the pub and begin the hard work of making it a successful business and community hub (which also houses the village Post Office).
Now The Angler's Rest employs over 25 staff, contributes over £200,000 annually to businesses in the Hope Valley, and has built a reputation for its warm welcome, diverse activities and quality food and drink.
Rebecca McIntyre, one the founder members of the Bamford Community Society which was set up to save the Anglers Rest, and Amanda Taylor, its General Manager, joined me in the Sheffield Live radio studio last Friday to talk about how they saved the pub – and turned it into a thriving community-owned asset.
Here's the podcast:
Timings (music played within the live broadcast removed from podcast):
0 – 8:58 introductions and update about this week's Budget announcement, already causing controversy
8:58 – end interview with Rebecca McIntyre and Amanda Taylor
Also mentioned in the show: Power to Change; The Plunkett Foundation; Locality; The Community Shares Unit.
More about the Business Live radio show.