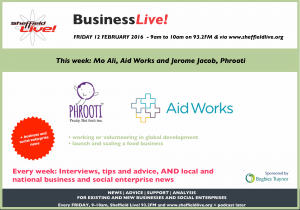 What does it take to have a career as an aid worker – or, if you want to volunteer in global development, what are the essential skills you need?
And how do you setup a food business from scratch, win customers, and use quirky and original marketing to your advantage – all whilst developing from the outset an appropriate (and BRC accredited) supply chain to enable you to scale?
Two fascinating guests joined me in the radio studio this week for another Business Live radio programme. You can listen to the podcast of the show, below.
Mo Ali co-founded social enterprise, Aid Works,with the aim to help non-Governmatal Organisations (NGOs) strengthen their systems, and to support local and international aid workers to reach their potential through training and e-learning.
In March Mo is running a course to help prospective aid workers and volunteers, "Being an Aid Worker – Basic Skills". He talked through Aid Works' objectives – and what you'll learn from attending their course (or from hearing a forthcoming talk by Aid Works on International Women's Day).
Today's programme also features Jerome Jacob, founder of Phrooti – real fruit infusions – and 2015 winner of the new business startup of the year award at the University of Sheffield Enterprise Evolve Business competition.
Jerome discussed where the idea for Phrooti came from and how he launched the product and established the brand, why Sheffield is such a great city in which to live and run a business, his plans for scaling-up, and how Phrooti will make a contribution to regenerating British wildflower meadows – and there was a bit about cycling and Thai Boxing too.
Here's the podcast (as ever, I've removed the music played on the live radio show from this podcast):
Timings:
 0 – 5:48 introductions and some forthcoming events
5:48 – 17:28 Mo Ali, programmes director, Aid Works
17:28 – 44:23 Jerome Jacob, Phrooti
44:23 – 46:31 wrapping up