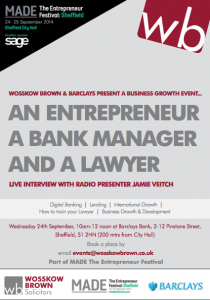 MADE, The Entrepreneur Festival is back in Sheffield this autumn.
Headline speakers include Paul McKenna, Fraser Doherty, Jamal Edwards and Doug Richard, who will advise more than 3,000 delegates on how to succeed in business at the two-day event on September 24 and 25.
Alongside these and other keynotes, a range of fringe events also take place throughout the week of 22–26 September. Fringe Events will cover areas such as Marketing, Innovation, Skills, International Trade, Finance and Funding, and more.
I'll be chairing a MADE Fringe event on Wednesday 24 September, from 10am-noon.
Titled An Entrepreneur, a bank manager and a lawyer, the session will feature panelists Caroline McLaren, the Company Manager of international success story Drop Dead Clothing; Nick Salmons, an award-winning banker (Nick's a relationship director at Barclays Corporate) and Kiley Tan, Partner and Head of Corporate Commercial at Wosskow Brown Solicitors.
The event is all about working with professional partners to help your business growth, and you'll hear, first hand, practical tips (and het to ask your own questions), plus there's the chance to make new connections and network.
We'll cover international growth, lending, digital banking, business growth and development, and much more.