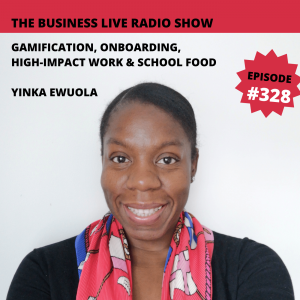 Yinka Ewuola puts a stop to the conversation that because women entrepreneurs have less time to focus on their business, they are at a disadvantage. How and why? Listen on. She runs Calla Success Systems, supporting women to build thriving and profitable businesses while living full, fabulous and nourishing lives.
Yinka explains we've been sold a lie by many people when it comes to achieving business success (whatever that means to you) and this has a huge cost, especially to women.
She covers how to create the most impact in your business from the time you have available – with tools and techniques you can use, now – and how she identifies high impact or high income generating activities for people to prioritise. What's the number one barrier to high impact work? Yinka explains.
And I was intrigued by Yinka's use of gamification in business, a powerful tool which can be used across all spheres of business. Yinka has specific examples, such as effective on-boarding to manage client expectations, for ethical persuasion and influence, and in webinars and masterclasses to massively boost participation and engagement. Her data backs this up.
Yinka is also an advocate for school food which she calls the secret weapon our education system ignores, and she is involved in another business, run on social enterprise principles, which makes food an internal part of learning and creates profit for schools themselves.
I found this entire conversation fascinating and it made me look at lots of things in a new light. It's episode number 328 of Business Live and it's packed with practical tips from Yinka too.
Timings:
5:10 Why we've been sold a lie about what success means and the only way to achieve it.
7:02 What drove Yinka to start her business, including a shocking statement she heard on her first day in her former life as an investment banker.
9:23 The principles behind business success may be universal but how you can apply them is different depending on circumstances.
11:10 Practical application: how to create the most impact using the 80:20 rule – and how Yinka's business accelerator identifies high impact tasks.
18:46 Gamification and variable rewards.
20:00 On-boarding clients using gamification had a powerful effect for one of Yinka's clients.
23:22 In masterclasses and webinars gamification boosts participation and engagement.
28:47 School food and business as a force for good. How Eagle Solutions Services makes food an integral part of learning and creates profit for schools too.
40:46 What are the goals Yinka has set which terrify her?
41:24 A life changing exercise.
47:35 Embracing doing work which is hard.
51:14 Recap.
52:14 The Suit Works, which supports unemployed people trying to get into work, is seeking volunteer trustees. Details.
53:21 A couple of things I've enjoyed this week: the webinar, Can Business Be A Force for Good, from Alpkit and B Corps UK. And a feature in the Times about Nadya Tolokonnikova, activist and founder of Pussy Riot, who is supporting Alexei Navalny.
Links: