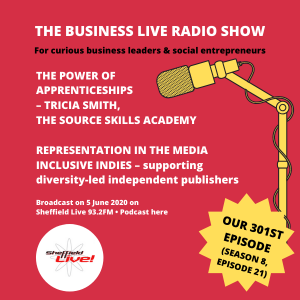 Tricia Smith is passionate about the power of apprenticeships, having started her own career journey through a work placement.
Now the CEO of The Source Skills Academy, in this interview she discusses:
her charity's range of courses covering vitally important technical and 'soft' skills
why apprenticeships are crucial
how employers can engage with The Source and the benefits of doing so.
In this episode of the programme:
Black Lives Matter.
Reflections on equality and representation, diversity and inclusion in business and the media, and a campaign in support of inclusive independent publishers.
Also in the episode: forthcoming events.
Here is the podcast. Click the large arrow to play, or hover over the media player and click on the icon on the bottom right corner to download it.
You can also access it in Apple Podcasts, Stitcher, Google Podcasts, numerous other podcast apps or Spotify.
Timings:
0 – 1:56 Introduction
1:56 Black Lives Matter. Including in the media and how entrepreneurship is portrayed.
6:42 The power of books can create a better world by increasing understanding and respect through reading. Kids growing up can't be what they don't see. Details of this crowdfunding campaign for inclusive independent publishers.
7:43 Interview with Tricia Smith, The Source Skills Academy.
30:52 Update and some details from a new guide to the flexible furlough rules from Jay Bhayani.
32:54 Business Sheffield's virtual business workshop programme.
34:49 Twinkl – the Sheffield-based global publisher – is making free books available to families across the region.
35:58 Get in touch!
36:20 Recap of last week's show with a heads-up of fundraising campaigns for The Big Issue North and The Suit Works
39:07 More details of this Inclusive Indies campaign to help diversity-led independent publishers, including Jacaranda Books and Knights Of, to tell more stories.
41:11 Wrapping up.
What Next:
The Business Live radio show is broadcast every Friday on Sheffield Live radio and available as a podcast from multiple platforms. Enjoy the show? Please leave a review or rating, and please subscribe to the podcast to ensure you don't miss the next one.
Sheffield Live's website is here.