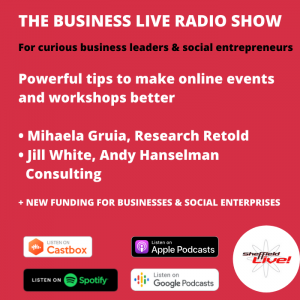 If you run online workshops, meetings or events this episode is a must-listen: it's crammed with practical tips to ensure your events are interactive and effective from two brilliant guests.
Mihaela Gruia is founder and chief executive of Research Retold. Her business works with researchers to help them communicate their findings in effective ways.
One of Research Retold's activities is to run workshops with Universities. Mihaela has found the experience of moving her workshops online to be positive – mainly because she did a lot of planning to ensure they continued to be highly interactive.
You can use the native functions of the technology platforms to facilitate this. Her tips cover what to do before, during and after your online workshop with lots of ideas which will really boost a workshop's effectiveness and the engagement of participants.
Jill White is an entrepreneur and business champion, well known by hundreds in the Sheffield City Region. Lately, Jill has been running a number of online events helping business leaders to stay connected, to collaborate and to identify new opportunities. There's been real impact as a result.
Again Jill has plenty of ideas about how to make online get-togethers effective. And she describes how her business, Andy Hanselman Consulting, is pivoting and helping other businesses to identify new opportunities too (plus flags up some excellent and highly subsidised online training).
Listeners are also welcome to participate in Jill's forthcoming groups, including 3DConnect, the female entrepreneurs and directors group, and the next unLTD Business Magazine online event.
In this episode I also run through some new sources of funding and support for businesses and social enterprises.
Here's the podcast. Click the large arrow to play, or hover over the media player and click on the icon on the bottom right corner to download it.
You can also access it in Apple Podcasts, Stitcher, Google Podcasts, numerous other podcast apps or Spotify.
Timings
0 – 2:00 introduction,
2:00 – 23:05 Mihaela Gruia,
23:05 – 37:30 Jill White,
37:30 What do you want the 'new new' to look like? What does that mean for your business or social enterprise? Let me know – get in touch,
40:57 New grants, funding and support for businesses and social enterprises,
45:50 Sheffield City Council calls for businesses which have not yet applied for grants they are eligible for to apply,
47:56 Wrapping up.
What Next: