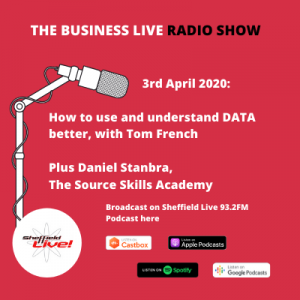 Plus charity makes online and distance learning available. The latest Business Live radio show featuring Tom French and Daniel Stanbra.
Tom French supports people to use data and evaluation better. He covers some examples of his work and how it helps to inform decisions, and has advice on what to think about when you're collecting or analysing data.
Tom is also part of Sheffield Data for Good and tells me about a recent collective effort with powerful results.
Also on the show: Daniel Stanbra of The Source Skills Academy. Would you like to boost your skills or help isolated staff boost theirs?
The Source, a registered charity, has made a variety of free-to-access training courses available online and through posted learning packs. Daniel tells me what they are and how his organisation acted rapidly to support Sheffield City Region businesses.
Here's the podcast. Click the large arrow to play, or hover over the media player and click on the icon on the bottom right corner to download it.
You can also access it in Apple Podcasts, Stitcher, Google Podcasts, numerous other podcast apps or Spotify.
Timings
0 – 2:46 introduction
2:46 Tom French
32:20 Daniel Stanbra
49:00 A few announcements including a new initiative from Steve Pipe, and wrapping up.
What Next:
Sheffield Live's website is here.
Enjoyed the show? Please leave a review or rating on Apple Podcasts or Stitcher. Subscribe for new podcasts too.
The Business Live radio show is broadcast live almost every Friday on Sheffield Live radio and available as a podcast in Apple Podcasts here.