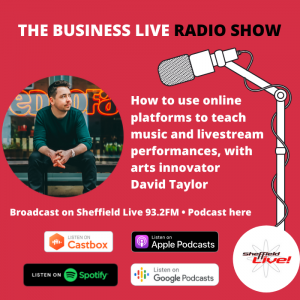 [Today's episode of the Business Live radio show, broadcast this morning on Sheffield Live FM radio, was pre-recorded via a Zoom call on Monday 16 March.]
Our guest is David Taylor, a former jobbing cellist who works with globally-known orchestras and arts organisations – and with individuals.
The coronavirus pandemic and the disease (Covid-19) it causes is having a dreadful impact on people's lives and health.
The measures we need to (and clearly must) put into place to protect people's health will also put jobs and livelihoods at risk.
David shares lots of helpful and practical advice about how music (and other) teachers can use online platforms such as Zoom, FaceTime, Google Hangouts and Skype to deliver lessons. It's a must-listen for self-employed teachers and it also covers livestreaming performances and building online businesses.
David founded the Yorkshire Young Sinfonia and is an expert in using digital technology to deliver arts and performance projects. He's been described as an arts innovator and featured in a Forbes magazine 30-under-30 list.
Which online platform should you use to teach? What are the pros and cons of each for giving music lessons? How do you teach effectively through a video-call? David is generous with his advice and tips.
We talk, too, about how to live-stream music performances and events. Again, there's lots of practical knowledge here based on David's experiences, covering platforms and techniques, from simple setups to multi-camera affairs.
The programme also includes ideas about how to generate or supplement your income through online business activities. And we cover increasing access to, and participation in, music.
Here's the podcast. Click the large arrow to play, or hover over the media player and click on the icon on the bottom right corner to download it.
You can also access it in Apple Podcasts, Stitcher, Google Podcasts, numerous other podcast apps or Spotify.
What Next: