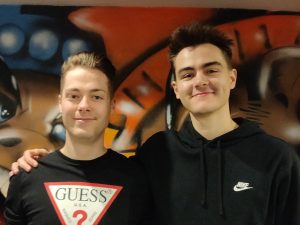 Joseph Palmer and Dan Bale create cinematic and stylish promotional marketing videos and short films and joined me in the radio studio this week to discuss their business, Open House Pictures.
Dan and Joe originally met on a performance course at Sheffield Hallam University and launched the business once they graduated when they realised there was a niche for creative video content production.
Their work has included a "love letter" to the Abbeydale Picture House; a beautifully-shot story for Tramlines, Sheffield Royal Society for the Blind, and Ticket Bank; promotional videos for Bhayani Law and The National Videogame Museum and more.
This episode includes:
The gap in the video / film production market Joe and Dan decided to fill
Clients and projects
How the business got started and who they asked for help
The Hallam Enterprise Awards
Advice for people who want to commission a film: what to think about, how to create a brief, how to chose a videographer or production company
The current and uncertain business climate: has this affected business' confidence in investing in marketing
Reasons to create video content
How Joe's and Dan's acting and performance backgrounds have fed into their work
Biggest challenges faced in the first year of business
A hilarious tale of filming in the crowd at Tramlines
Ensuring work/life balance: and the systems they have learned to protect this
Moving into an office at Hallam I-Labs
Ambitions for the year ahead and how they plan to grow the business
Here's the podcast. Click the large arrow to play, or hover over the media player and click on the icon on the bottom right corner to download it.
You can also access it in Apple Podcasts, Stitcher, Google Podcasts, numerous other podcast apps or Spotify.
Timings
o – 1 introduction
1 – 2:50 updates including the presents with a purpose gift guide from Social Enterprise UK
2:50 Joseph and Dan
43:30 The Federation of Small Businesses comments about political parties' election manifestos
49:40 Events: a brilliant event about the magic of maps at Sheffield Central Library; Nether Edge Farmers' Market; wrapping up
What Next:
Get new podcasts and practical advice in an accessible, entertaining format: join my free newsletter email list (if you're not already signed up). Just pop your details in below and look out for a confirmation email.