T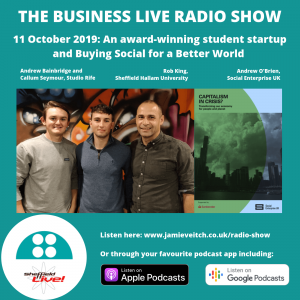 oday's radio show: four art and design students from Sheffield Hallam University realised they would be "stronger together" – and created Studio Rife. a collective which won the 2019 Hallam Enterprise Award.
Plus fascinating and powerful new data from Social Enterprise UK, alongside their Buy Social campaign (you can make the world a better place by drinking beer and eating chocolate).
Andrew Bainbridge and Callum Seymour of Studio Rife joined me in the studio with Rob King, Start-Up Advisor, Sheffield Hallam University.
I was one of the judges in last week's Hallam Enterprise Awards which was a tough job – a credit to all ten of the finalists. Rob described the competition and how SHU supports students' and graduates' businesses from startup to growth. And Callum and Andrew explained their business, the work they've already won and how they secured it – and what they will do with the prize money.
Later in the programme Andrew O'Brien, Social Enterprise UK's Director of External Affairs, joined us for a live phone interview.
This week SEUK published "Capitalism in Crisis?: State of Social Enterprise Survey 2019" which is the largest, most credible, most comprehensive and most representative survey of social enterprises in the UK. It's packed with fascinating data, as Andrew describes.
Here's the podcast. Click the large arrow to play, or hover over the media player and click on the icon on the bottom right corner to download it. The timings are below.
You can also access it in Apple Podcasts, Stitcher, Google Podcasts, numerous other podcast apps or Spotify.
Timings:
0 – 2:54 introduction – including how to make the world better with beer and chocolate,
2:54 Rob King, Sheffield Hallam University,
9:26 Andrew Bainbridge and Callum Seymour, Studio Rife,
28:10 Rob King on the runners-up and best pitch winners in the Hallam Enterprise Awards,
34:35 Andrew O'Brien, Social Enterprise UK (SEUK) – what is the Buy Social For a Better World campaign?
41:20 Andrew covers some of the new data from SEUK's research, "Capitalism in Crisis?: State of Social Enterprise Survey 2019"
47:15 Forthcoming events including Showcase Sheffield on 23rd October, and wrapping up.
What Next:
Get new podcasts and practical advice in an accessible, entertaining format: join my free newsletter email list (if you're not already signed up). Just pop your details in below and look out for a confirmation email.