I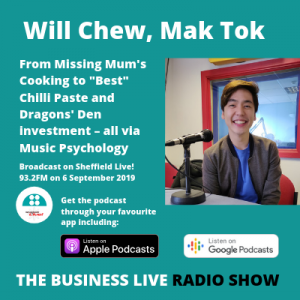 t's a wonderful story. Malaysian-born Will Chew came to Sheffield to study Music Psychology. He missed his mother's cooking so much he shipped some ingredients to the UK and experimented in his kitchen, creating the tasty chilli paste he grew up with and loved.
Now Will's business, Mak Tok, sells four tasty flavours of delicious pastes to chilli-loving food aficionados directly, online and through supermarkets. And last week Will's unusual musical appearance on BBC's Dragons' Den resulted in a £50,000 investment from newest Dragon Sara Davies.
Will joined me in the radio studio on Friday for the latest Business Live radio show – here's the podcast.
He describes the amazing story behind the business and its recipe, the challenges involved in growth and moving to a manufacturer, why working on a market stall proved essential, the lean marketing approaches which worked for Mak Tok, and the opportunities and benefits for the business now he's working with Dragons' Den investor Sara Davies.
Here's the podcast. Click the large arrow to play, or hover over the media player and click on the icon on the bottom right corner to download it. The timings are below.
You can also access it in Apple Podcasts, Stitcher, Google Podcasts, numerous other podcast apps or Spotify.
Timings:
Introduction: Who is Will, what does Mak Tok mean and what does it make?
1:57 Will came to the UK in 2014 for a Masters in Music Psychology at The University of Sheffield. He explains why he chose this course.
4:04 Will's the "rebellious" one in the family.
5:01 Why Will started making chilli paste in his kitchen – and decided to sell jars at a market stall – and what happened next.
7:11 Support from The University of Sheffield Enterprise enabled Will to take Mak Tok to The BBC Good Food Show. A great opportunity, but daunting and challenging to scale up as Will explains.
11:00 Will needed to build up confidence and a thicker skin.
12:08 fast forward to Dragons' Den which aired last week – but was filmed in April. How did Will manage to keep his success in securing investment under wraps? How did the process to apply to be on the programme work? And what was the day of filming (and pitching) actually like?
16:30 Will describes his unusual pitch in which he played and sung a lullaby with a favourite folk story.
17:20 Will's plans and how Sara Davies' investment and expertise will help develop Mak Tok.
20:10 What Will really wanted most from being on Dragons' Den.
22:15 The impact of being on the programme on orders and Will's website.
26:10 What had Will done in terms of marketing Mak Tok before Dragons' Den? What had worked well – and what had not?
28:50 "If you're shameless you can do anything." But what works for one startup might not for another.
30:00 Selling Mak Tok on market stalls has proven to be essential. It's helped Will hone his pitching skills and it was how he met his manufacturing partner.
31:30 Moving to a manufacturer, MOQ – Minimum Order Quantity – was a challenge. Will describes how Mak Tok addressed this and increased the product's shelf life from 3 days to a year using only natural ingredients.
36:30 Mak Tok is now available on Amazon. How does that work?
39:58 Will describes the four different flavours of Mak Tok, who inspired them, which is the best seller, and where to get them.
43:19 Will's favourite recipe (which made us really hungry in the studio).
44:20 Will's parents had been entrepreneurs themselves and as a result of some of their experiences his mother didn't want him to go into business himself.
47:30 The recipe for Mak Tok's first paste was an amazing gift from Will's Mother.
49:30 Where to find Mak Tok and a huge thank-you to the people of Sheffield from Will.
51:00 Wrapping up this episode of Business Live.
What next and Links:
Get new podcasts and practical advice in an accessible, entertaining format: join my free newsletter email list (if you're not already signed up). Just pop your details in below and look out for a confirmation email.