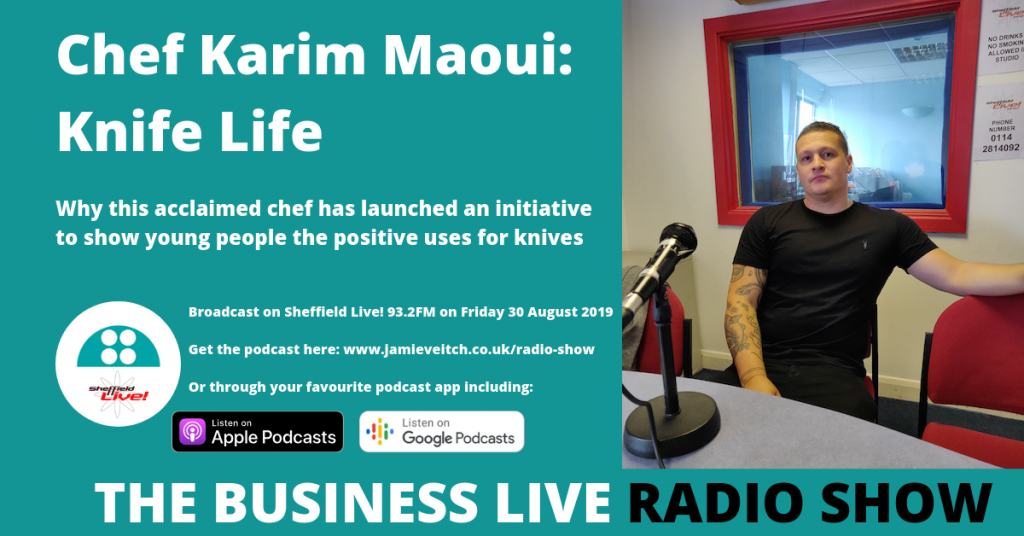 Karim Maoui is a highly-acclaimed chef and founder of Knife Life, a community project formed to address what's been described as a rampant epidemic of knife crime. Knife Life aims to inform young people about the positive uses of a knife as a kitchen tool rather than as a weapon, giving them valuable experience, opportunities, and more choices in life.
In this episode of my Business Live radio show Karim explains the objectives of Knife Life and some formative experiences which mean he understands all too well the need for a project like Knife Life.
The show also coves the UK Social Enterprise Award shortlist and new opportunities for businesses to support fantastic community initiatives.
Here's the podcast. Click the large arrow to play, or hover over the media player and click on the icon on the bottom right corner to download it. The timings are below.
You can also access it in Apple Podcasts, Stitcher, Google Podcasts, numerous other podcast apps or Spotify.
Timings and shownotes:
0 – 5:38 introduction.
5:38 From a flash of inspiration while driving home, the concept of Knife Life quickly gained the support of local businesses in Sheffield where, like many UK cities, knife crime has become somewhat of an epidemic.
6:16 The long-term vision of Knife Life is to offer alternative choices to young people at risk of being introduced to drug dealing and antisocial behavior, and to give them a set of skills which will enable them to have promising careers. Karim hopes they can discover and understand that, no matter their background, they can choose their own path.
8:11 Looking back, Karim said he should have worked harder at school and the idea of working in kitchens was the last thing he wanted to do. But when he started training to be a chef he found his calling. Working with many different kitchen brigades over a 24-year career helped him to learn about the value of consistently turning up, doing a job, and going home. Kitchens build a family, he says, and they care for that family no matter their past and present circumstances. His career and professional relationships helped him form a framework for life.
9:57 Being in the hospitality industry, Karim can work anywhere in the world. He is excited to help young people see the possibilities once trained.
12:12 Monetary incentives from a young age can rapidly trap young people in the world of drug dealing "until it all comes crashing down". The key is to let them know there are other ways to make money and live their lives, i.e. "These are what knives can do for you in a good way."
15:20 Karim has designed two different professional chefs' knives for I.O.Shen Knives, one of which won an award. He segues into the connections and opportunities one can come across in the hospitality industry.
20:27 Karim has experienced how people can be judgemental and biased. But in the kitchen, everything runs on merit, which gives anyone a sense of self-worth.
23:16 Karim and long-term friend and business partner Adrian are building an engaging online presence for Knife Life. This will be imperative for garnering the support and interest of other chefs, businesses, and young people.
25:04 Success for Knife Life's first year would be to get at least one young person onto a new, brighter path—and for them to become independent from the community project. Anything above that is a plus.
27:14 The Government's (notorious) response to knife crime was to spend thousands on advertising on take-away chicken boxes. Karim wasn't impressed. Grassroots projects and community-driven initiatives have the biggest potential to make an impact, he says.
29:20 Karim's business runs supper clubs. He gives a taste(!) of what you might expect:  there's never a set menu.
33:39 Learn more about Knife Life through @ProjectKL. Karim's personal Twitter handle is @KMaoui – or contact him through me.
35:53 Business Live. How to put yourself forward to be on the show.
37:43 Local business news: congratulations to Will Chew of Sheffield's Mak Tok, maker of fantastic chilli paste and successful on TV's Dragon's Den. Will is going to be on the show next week.
39:09 The UK Social Enterprise Awards shortlist has been published by Social Enterprise UK. Congratulations to all on the list.
41:16 Events: The Future of Artist Development in the region – a free networking event on Thursday 5 September in Sheffield. Sheffield Digital's AGM.
43:45 New opportunities from Sheffield Business Together for businesses to support local community organisations including Suit Works and St Wilfred's Centre – and wrapping up.
What next and Links:
Enjoyed the show? Please leave a review or rating on Apple Podcasts or Stitcher. Subscribe for new podcasts too.
Knife Life on Twitter.
Karim's business, Le Chef Supper Club.
Sheffield Live's website is here.
The Business Live radio show is broadcast live almost every Friday on Sheffield Live radio and available as a podcast in Apple Podcasts here.
To get new podcasts and practical advice in an accessible, entertaining format, join my free newsletter email list (if you're not already signed up). Just pop your details in below and look out for a confirmation email.