I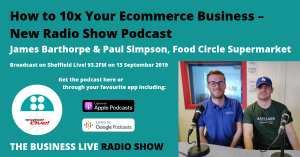 t was a hat-trick for Food Circle Supermarket, with James Barthorpe and Paul Simpson returning to the radio studio for their third interview.
And what incredible progression in the year since Paul and James were last on the show, with turnover increasing by a factor of 10.
If you run an ecommerce business you must listen to this episode, it's crammed with advice you can learn from and use to grow your own revenue. From the pros and cons of running on Shopify through to securing better terms, marketing – and even whether James and Paul ever considered quitting during the business' first year. Scroll down for the podcast player (and links to find it in your podcast app of choice).
Food Circle Supermarket sells surplus food and drink online to the public. They buy stock (all within use-buy dates) directly from manufacturers, which customers can buy at up to 50% less than RRP while saving food from being wasted. It specialises in protein bars and cookies, health and sports nutrition snacks – though its product range continues to evolve and develop.
In this new podcast James and Paul describe:
– What the business does and the enormous efforts they've gone to to understand their customers.
– Why they choose Shopify rather than an alternative platform for the website.
– Getting more favourable terms from suppliers.
– How they increased revenue and how they've coped with such exponential growth.
– What they did with the £5,000 prize they received last year for winning the Hallam Enterprise Award.
– Making a sustainable business with an average basket spend of £25 – £30.
– Launching a business is challenging – were any points when Paul and James considered throwing in the towel?
– The social media platforms which work best for Food Circle Supermarket – and where 95% of their marketing budget goes
– Email marketing and what works best for the business.
– Plugging into the Shopify developer community.
– Their approach to social media marketing, testing and learning.
– The crucial importance of describing your unique value proposition concisely and clearly.
– Getting customers to leave reviews.
– Numerous other tips and pieces of advice – some hard-won – about growing and running an ecommerce business.
Here's the podcast. Click the large arrow to play, or hover over the media player and click on the icon on the bottom right corner to download it. The timings are below.
You can also access it in Apple Podcasts, Stitcher, Google Podcasts, numerous other podcast apps or Spotify.
Hope you enjoy this episode (and if you do, please leave a review or rating in Apple Podcasts!)
What Next:
Get new podcasts and practical advice in an accessible, entertaining format: join my free newsletter email list (if you're not already signed up). Just pop your details in below and look out for a confirmation email.