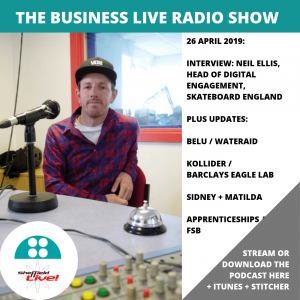 Over half a million people take part in skateboarding in England. The sport, whose participants are predominantly aged 11-24, is accessible, lively, vibrant and diverse according to Neil Ellis, Head of Digital Engagement at Stakeboard England.
With skateboarding's inclusion for the first time in the Olympic Games in 2020 in Tokyo (it will also feature in the 2024 Olympics) its popularity is bound to increase.
Neil joined me to describe his role at Skateboard England, the national governing body for skateboarding.
His and Skateboard England's priorities include increasing participation in the sport; engaging with individual skaters, skateboarding clubs and skate schools; and making skateboarding accessible for all.
Skateboard England will also support and develop performance "to enable skaters to remain internationally competitive," with the aim of having home bred skaters compete in the Tokyo 2020 Olympic Games.
As a skater of over two decades, this role must be a dream job for Neil – and he brings valuable experience from prior marketing jobs at national charity Kings Foundation and at Ponds Forge, with the latter involving an Olympic link too.
Here's the podcast to download or stream (also find it in iTunes here). The timings and show notes are below.
Timings:
0 – 5:13 introduction and updates including launch of the 80,000 sq ft Barclays Eagle Lab at Kollider; new exhibition "Over the Influence" at Sidney + Matilda; getting in touch,
5:13 – 32:21 Neil Ellis,
32:21 milestone for Belu Water and WaterAid,
35:45 small businesses struggling to take on apprentices, according to FSB (Federation of Small Businesses),
40:13 a preview of upcoming guests and wrapping up.
What next:
Check out Skateboard England. Sheffield Live's website is here.
The Business Live radio show is broadcast live every Friday on Sheffield Live radio and available as a podcast in iTunes here.
To get new podcasts and practical advice in an accessible, entertaining format, join my free newsletter email list (if you're not already signed up). Just pop your details in below and look out for a confirmation email.