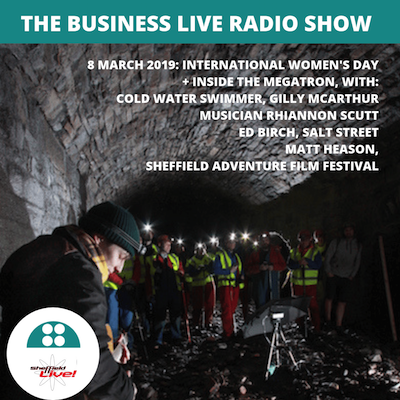 Today's Business Live radio show features new interviews recorded this week during a trip to The Megatron, and covers International Women's Day. The podcast is below and in iTunes.
Part of a network of underground river tunnels and Victorian storm drains beneath Sheffield City Centre, The Megatron is a cavernous structure and an engineering marvel.
It's normally off-limits but I got the chance to visit on Monday, and special "urban caving" trips will be a feature of this year's Sheffield Adventure Film Festival.
Matt Heason, festival director, tells us more about the film festival and the wealth of exciting activities and events all around it for the March "Festival of the Outdoors."
This episode features interviews with Gilly McArthur, an open- and cold-water swimmer, extolling the health and wellbeing impacts of being outdoors, in nature, and swimming in cold water.
Gilly featured in the new film, Floe State of Mind and has just raised several thousand pounds for Mind, the mental health charity.
Also on the programme: a short interview and a live performance from musician Rhiannon Scutt.
Rhiannon can, it's been said, "deliver a line that can break your heart in an instant." She's an outstanding guitar player and songwriter of emotive compositions combining a deftness of touch with vivid evocations of mood, memory and feelings. She writes a great ear-worm too – compelling and captivating!
In this episode we also hear from Ed Birch, director of Salt Street Productions. This young film-making business created the viral hit film of wake-boarding in the Megatron a couple of years ago. Recently they made the Outdoor City promo film showcasing Sheffield's wealth of adventure opportunities, which is helping to attract international visitors to the city.
On the progamme we also cover this year's International Women's Day: all over the world millions of women, and men, are celebrating the social, economic, cultural and political achievements of women.
This year's campaign theme is #BalanceforBetter – how can you help forge a more gender-balanced world? The moral case for equality should be enough alone, but we run through the economic case for gender equality too.
We also feature forthcoming events: The Sheffield Adventure Film Festival and the Festival of the Outdoors of course, plus the Women in Business / Athena Awards do, and the Sheffield Classical Weekend 2019.
Here's the podcast to download or stream (or find it in iTunes) – the timings are just below:
Timings:
0 – 5:54 introduction, International Women's Day and some statistics from PwC and McKinsey about the potential economic contribution if we were to close the gender pay gap
5:54 news from Sheffield Soup and Bee Blest, and how to get in touch
6:15 Matt Heason, Sheffield Adventure Film Festival
15:39 Gilly McArthur
20:18 a chance to explore the underground rivers and the Megatron via The Outdoor City Sheffield (their competition closes TODAY)
21:12 Rhiannon Scutt
23:47 Ed Birch
29:11 live performance of "I Swim" from Rhiannon Scutt
33:47 more about International Women's Day and a recap of some recent podcasts
38:37 forthcoming events, including "Get Up to Speed," at MAGNA later in March; The Sheffield Star Digital Awards; the Women in Business / Athena Awards do, and the Sheffield Classical Weekend 2019
46:00 – end (48:00)wrapping up and getting in touch.
What next:
Watch the film featuring Gilly McArthur, Floe State of Mind, here.
Business Live radio show is broadcast live every Friday on Sheffield Live radio – and available as a podcast in iTunes here.
To get new podcasts and practical advice in an accessible, entertaining format, join my free newsletter email list (if you're not already signed up). Just pop your details in below and look out for a confirmation email.