Mihaela is a data scientist and the founder and MD of Research Retold, an award-winning research communication agency.
She was my guest for today's radio show and you can find the podcast below.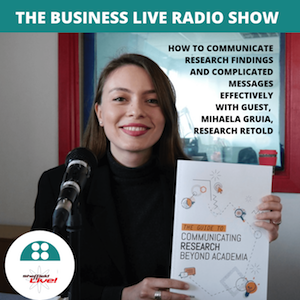 Her business helps researchers present their findings to stakeholders and the public in creative ways and make a positive impact in society.
In this episode Mihaela covers:
Why researchers need to communicate their work – and why should they try to do this more effectively. Several salient points here.
Specific, clear guidance and advice about how to communicate complicated research findings – or complicated policy or business messages, more effectively.
Some examples of Universities Research Retold has worked with and the results of these collaborations.
Avoiding the risks of media misrepresentation of academic research by taking control of the narrative.
Positive outcomes from policy briefings which Research Retold has helped to create.
How to plan a great policy brief, including a simple structure to follow.
The biggest challenges that Universities, researchers (and other organisations) have in communicating, based on Mihaela's experiences – and how her business helps people overcome them.
Transferable points about effective communication and dissemination, applicable to a wide variety of business and social enterprise leaders.
Mihaela's own background studying Politics and International Relations at the University of Sheffield, gaining work experience in public affairs in Brussels and immersing herself in the effective communication of complex information.
How Mihaela founded Research Retold after a pitch at StartUp Weekend in Sheffield; support on the journey from the New Entrepreneurs Foundation and The University of Sheffield Enterprise, and the key critical success factor behind her business.
Here's the podcast (timings below; you can also get it through iTunes here):
Timings:
0 – 4:57 introduction, updates and World Radio Day.
4:57 – 38:14 Mihaela Gruia with specific, actionable advice about communicating research.
38:14 some background information about how Mihaela launched and developed the business – and those critical success factors.
What next and key links:
The Business Live radio show is broadcast live every Friday on Sheffield Live radio – and available as a podcast in iTunes here.
Research Retold's website, where you can get a copy of Mihaela's Guide. You can also find Research Retold on LinkedIn and on twitter.
To get new podcasts and practical advice in an accessible, entertaining format, join my free newsletter email list (if you're not already signed up). Just pop your details in below and look out for a confirmation email.