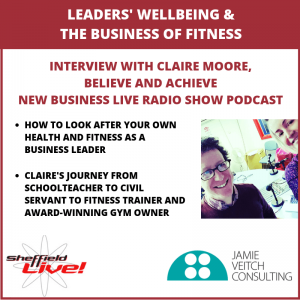 Claire Moore is a former schoolteacher and civil servant who moved from the classroom to the gym. Her business, Believe and Achieve, was named Best Ladies Gym in the UK at the recent National Fitness Awards.
In this latest episode of my Business Live radio show, available as a podcast below, Claire describes her journey to fitness, how that led to a part time career in the industry then making the leap to running her thriving business.
Claire also has some brilliant and realistic advice for business leaders who want to look after their health but can't find the time to do so. If your wellbeing or fitness gets pushed down your priority list because of the demands of your business, you must listen to this – you will be able to implement Claire's tips.
The podcast also covers:
How Claire become unfit while commuting daily to Manchester and what she did about it,
The lightbulb moment when Claire decided to make fitness her business,
Continuing to work part-time as she developed and grew her client base,
Making the jump from a safe career with a guaranteed salary to running her business, "if you wait for the perfect time it never happens."
Organisation and the power of a good to-do list and effective systems,
Key lessons learned in Claire's first year – including "saying no to people if you're not a good fit for each other."
How Claire ensured her clients valued her expertise, paid her, and avoided awkward "can you also just…" conversations.
What makes people reach for the comfort food,
Personal trainers who make unrealistic promises,
The education, confidence and mindset work that Believe and Achieve offers were particular factors which impressed the judges of the National Fitness Awards.
Setting realistic goals and breaking them down in to small achievable 4-week chunks,
Consistency, accountability, and the difference between change and transformation,
How Claire found premises for her gym,
For business leaders stressed about finances, clients, delivery, marketing, the to do list: how to fit in training and look after your wellbeing – and how Claire looks after her own,
Whether age or lack of mobility are barriers to training,
What's next for Believe and Achieve?
Podcast:
Timings:
0 – 4:31 introduction and updates: with the deadline looming for filing self-assessment tax returns, we run through the most bizarre excuses given to HMRC for submitting tax returns late; launch event for UK Invictus Games trials; get in touch
4:31 – 50:35 Claire Moore
50:35 – 54:20 wrapping up
What next?