Here's a sustainable, ethical business, thriving and continuing to grow a decade after launching. It has environmental and social responsibility at its core and its leader shows how businesses can be agents for positive change.
Here also is a brand new gallery space in Sheffield where you can enjoy exceptional art with "an alternative take on the season of goodwill" – and a free drink.
Yes, it's another double-header radio show for you – scroll down to download or stream the podcast. I was joined in the studio on Friday 14 December by Al Daw and Rob Cole for my weekly Business Live programme on Sheffield Live.
Rob runs Sheffield Sustainable Kitchens which he launched nearly 11 years ago.  Now the praise and accolades are unstoppable – two weeks ago SSK was named winner of the Excellence in Corporate, Social and Environmental Responsibility Award at the Sheffield Business Awards.
The company was founded on the basis of environmental and social responsibility, says Rob. Its beautiful kitchens are built from reclaimed and recycled timber and other woods. They are stunning (check out the gallery on their website). In the interview Rob talks us through how and why he launched the business, its environmental and social impacts, an initial period of growth up to five employees, the recent spurt of growth to 15 staff and the challenges on the way.
"I'm still learning now," he says, "When I started I knew what I was doing about how to fit and design a kitchen – I've learned a lot since then about how to run and lead a business."
Also a committed mentor to other business leaders, Rob gives them time and help on their business journeys. On top of this he (along with Karen Perkins) have relaunched Sheffield's "Netwalking," a regular networking event with a difference which involves a walk in the park. "There's something really nice about networking while you are moving, the conversations are very relaxed and flow more," he says.
Businesses can and must be agents for change and for mitigating our environmental impact, says Rob. Governments are failing to lead or to really encourage the change. "We need a serious push if we are to avert climatic disasters," Rob adds, and so "the business community needs to drive forward positive changes."
That lead us on to a conversation about corporate social responsibility and greenwash. But Rob explained why he's hopeful for the future.
Finally Rob reveals the decision he made relatively early on (but which he wished he'd made earlier) and how that led to a drastic increase in customers.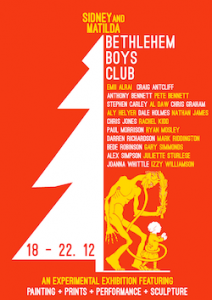 Also on the programme: Al Daw. Al was last on the show this summer (podcast here), talking about his immersive Soviet-themed football festival, Kickov. Now he's taken on a new space which he is developing into a gallery, creative project space and arts club.
The space is Sidney And Matilda and their first exhibition is on now until 4pm on Sunday 23rd December: "Bethlehem Boys Club." Featuring paintings, sculpture, assemblage, print and performance, The B.B.C is, says Al,  an "unlikely salon show providing an alternative take on the season of goodwill."
It's open 10am – 6pm Tues to Fri, with Friday's launch party 6PM until late and Saturday noon until late, and Sunday noon to 4pm.

What's it all about, and what's the vision for this exciting new gallery and space? Al spills the beans.
We cover collecting art and supporting grass-routes artists; cynicism in the corporate art world; collaboration between artists and more.
Al also invites you to come along to a free party on 21 December (details below, you need to register and then you'll get a free drink on the house) and enjoy exceptional artwork against a backdrop of mulled wine, mince pies and live performances…
Here's the podcast:
Timings of the podcast:
0- 4:45 – introduction and updates about preventing food waste and supporting homeless people: shout-outs for The Real Junk Food Project Sheffield and their crowdfunding campaign, for Roundabout, Sheffield's Youth Homelessness Charity, and for The Cathedral Archer project,
4:45 – 27:41 Rob Cole,
27:41 – 47:34 Al Daw
47:34 – end (49:55) wrapping up
What next?
The Business Live radio show is broadcast live every Friday on Sheffield Live radio – and available as a podcast in iTunes here.
Check out Sheffield Sustainable Kitchens and Sidney and Matilda, and check out the details via Facebook and/or the eventbrite listing for the free Bethlehem Boys Club Opening Party on 21 December. You get a free drink if you register!
To get new podcasts and practical advice in an accessible, entertaining format, join my free newsletter email list (if you're not already signed up). Just pop your details in below and look out for a confirmation email.