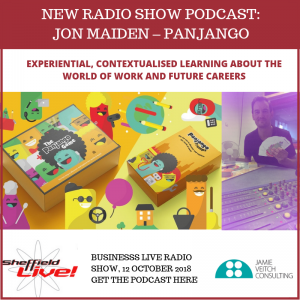 "Young people are taught to be good at exams, but with very little context of how what they've learned will apply to real life," according to Jon Maiden, co-founder and CEO of Panjango.
That means, he says, they don't have the skills they need for work and society, for the jobs of today, and the new jobs of the future.
But serial social entrepreneur Jon has come up with a powerful, immersive and playful route for children to explore the sometimes mysterious world of work.
Jon joined me in the Sheffield Live radio studio this morning and brought with him Panjango's beautifully designed board and card games, The Panjango Game and Panjango Trumps.
They've been created thanks to support from The Young Foundation, and are now available to order via Kickstarter. The games look fantastic and are designed to enable give young people the knowledge, skills and experience to find their purpose and fulfill their potential.
Listen to the interview with Jon, below, to hear more about Panjango's games and the philosophy behind them – it was a wide ranging chat. We also covered:
being "smarter than a 10 year old" and the balance between intelligence and imagination,
developing "four dimensional skills" for the future, including for jobs which don't yet exist,
Panjango Trumps are a world first – and they include metrics for the social impact of a variety of roles (which I loved), as well as other numbers you might expect to find on the cards,
Jon's previous work as a social entrepreneur and development director of

Point Blank Theatre Company, which bought The Riverside pub in Kelham Island when it was a struggling pub and ran it as a flourishing community venue with a diverse range of activities,

access to funding for startup social entrepreneurs, with shout-outs for UnLtd and Awards for All.
This week's show is dedicated to Phil Baldwin, a much loved colleague and friend at Sheffield Live. We are all shocked and devastated by his passing. Thank-you, Phil, for your kindness, humour, support for your colleagues and ready wit, and determination to do things well. You will be missed.
Podcast:
Timings:
0 – 3:02 introduction and some words about our Phil,
3:02 Jon Maiden,
37:40 remembering Phil Baldwin.
What next?